One way to look at the future of Grey's Anatomy's Cristina and Owen is that it's going to get worse before it gets better. Another way to look at it is that ... it probably will get better eventually.
If you're a fan of the two together, that's got to be somewhat encouraging. Right?
"Initially, it's going to be very unsettling," executive producer and show creator Shonda Rhimes teases of the couple's trajectory in the upcoming Grey's Anatomy Season 9, which begins next Thursday.
"Then it's going to get fairly romantic as we watch them find their way back to one another."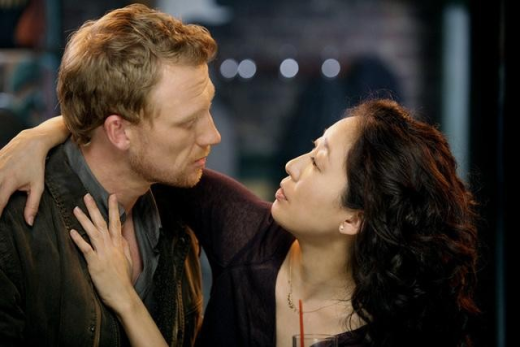 Rhimes reiterates that any road to reconciliation will be a bumpy one for the couple.

"There are the aftereffects of the plane crash," she says.

"There's still his cheating. Also, he still wants a family and she still doesn't. That is a huge obstacle for a couple. I'd like to explore what happens when two people want fundamentally different things."

Explaining how she crafted their storyline, she adds, "I didn't want them to just walk away from each other. I felt like a lot of couples would fight to be together and figure out how to do it."

How do you see things playing out for them this fall? Discuss!

Steve Marsi is the Managing Editor of TV Fanatic. Follow him on Google+ or email him here.

Tags: Grey's Anatomy, Spoilers