Leverage Review: Learning To Fly
by Jim Garner at .
What a story Leverage fans were treated to on "The Broken Wing Job," easily the best Parker-based episode of the series to date.
The addition of Aarti Mann as Amy was an excellent choice to play off of Parker. Mann, having recently spent time on The Big Bang Theory, possessed just a hint of comic flair in the character, which made it even more fun.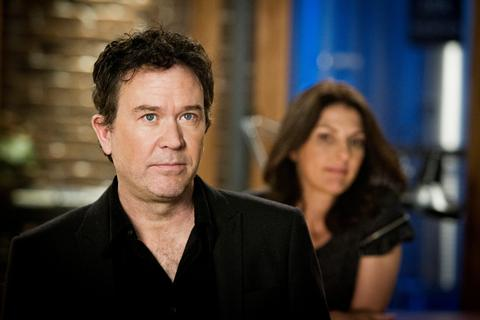 Did anyone else catch that Parker took on each of the team's roles for a short bit? She was Hardison when she made the phone scanner, she was Eliot when she beat the guy with the crutch, she was Nate when she planned out where the tables go to block the thieves, and finally she was Sophie when she Conned Amy into helping her initially. Well done, Parker!

While I was sad we didn't learn what it was that Nate and Sophie were burning, I did really enjoy it that Nate could actually hear Parker and knew she was dealing with something - but simply trusted that she could do it. Parker really has come a long way since Leverage Season 1.

How awesome was her revelation that Amy was "one of them?!?" Parker doesn't even think twice now about helping. The Parker from a couple years ago would have never taken an interest in "Romeo, "Juliet," or "Chicken Parm" aside from what she could lift from their pockets. 

When she sat down with "Chicken Parm" to help him find a new favorite dish, I had tears in my eyes. In fact her comment was one of my favorite from tonight's Leverage quotes:

She would have been very proud of how you stepped up yesterday and saved that police officer. | permalink

I hope we get to see more of Amy; she was a fun addition to this episode and would be really cool to see the team have some outside friends/support from time to time. 

Jim G. is a TV Fanatic Staff Writer. Follow him on Twitter.

Tags: Leverage, Reviews
From Around the Web