Hart of Dixie Interview: Cress Williams on Election Season, Complicated Sparks and More!
by Kate Brooks at . Comments
With Hart of Dixie Season 2 just one episode old, TV Fanatic has already talked to Scott Porter about life as a single man in Bluebell and to Tim Matheson about Brick entering the dating scene.
Now, Kate Brooks sits down with Cress Williams and talks to the man behind Lavon Hayes about Lavon Hayes running for Mayor again and Lavon Hayes dealing with his high school sweetheart. Read on for our Q&A...
----------------------------------------
What was it that attracted you to Lavon's character?
The main thing is that most of the things that I've gotten to do over the years have been on the more dramatic side and I love comedy. Throughout my career I haven't gotten to do a lot of it, so that was one thing was that I was able to explore and do more comedic things. At the start of Hart of Dixie, I had just finished playing two characters in a row that weren't necessarily likable. So playing someone who has the heart of a good guy definitely appealed to me.
The thing about me is that I like to do variety and what I love about Hart of Dixie, for the most part, we stay on the light side and then we have these moments of heaviness. I feel like I get a chance to, in a whole season, get really dramatic and get really silly at the same time.
Lavon is up for re-election. Is he going to be unopposed or are we going to see someone face off against the mayor with the 98% approval rating?
It would be boring television if someone didn't. There will be some opposition.
In the premiere, we met Lavon's ex-lover/high school sweetheart Ruby. Are we going to get a lot of Ruby/Lavon in the first part of season two? A possible reconciliation?
We are in midst of starting episode eight and she is still around. We will definitely see a lot more of her and things will get more complicated, especially in the next coming episodes will come out. Sparks will fly between Ruby and Lavon.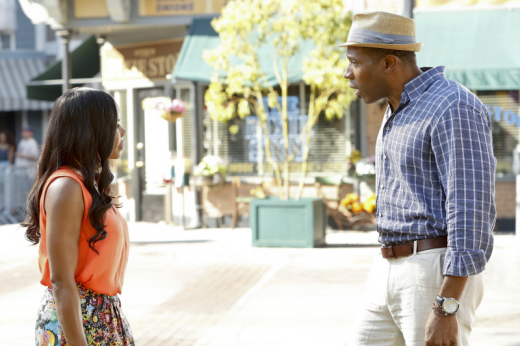 Are we going to have a love triangle or are Lemon and Lavon on the back burner?
I selfishly love Lemon and Lavon together. I wouldn't say they are on the back burner, but I think with the introduction of Ruby you can tell that Lemon and Ruby have their own history that is not necessarily revolving around Lavon. There is still so much damage control; you know Lemon has her own issues about how to put her life back together.

I think initially they both have bigger things to attend to. Next episode I believe is the re-election, and that becomes a big focus for Lavon. I can tell you that it's not over between [Lemon and Lavon]. They are just going to attend to some other things before that.

I really hope we do get more of Lemon/Lavon; it's definitely my favorite relationship dynamic on the show.
Yeah, mine too. Having Ruby come on has illuminated the dynamic of what it was like [in the past], because you know all of these characters went to high school together and you can see that Ruby and Lemon always having little cat fights in high school and it enriches all of our back stories.

I am hoping for some more backstory on Lavon. Is their anything in particular that you want to see?
I'm hoping so too. I've mentioned I've always wanted a little bit more of the specifics of being a pro-athlete and why I retired and decided to come home. I was hoping, I know we've talked about it, about an ex-teammate from his past coming to Bluebell that will open the door to some of that backstory and what kind of person Lavon was in the NFL. I'm also always open to more family coming back.

Speaking of Lavon being a pro athlete, please tell me we will get to see him actually playing football. Would you want to do this?
I think it would be fun, limited, because I have a bad knee. But I would like to do something like that. I was in pads once last season and so far this season I've been in pads once. I imagine at some point we will do some sort of flashback. Even if it's an episode where Lavon tries to see if he can play again and will find out he can't do it anymore.

It seems like, from the premiere, that the tone of the show seems lighter. Is that tone still present where you are right now?
It is. I think the show, on some level, is a bit of a romantic comedy. I think for the most part we air more on the side of levity. But then we have some of that weight that keeps you grounded. But I agree with you, I feel like this season from the writers to the actors, we all have a stronger sense of what we're doing. So we can walk that line better.

We have had some fans send us questions and the most popular and appropriate one was this: people want to know what a normal day on the set of Hart of Dixie is like. Are you guys pretty serious? Pretty laid back?
We are very laid back. We're not so much practical jokers, we make joke and we keep it light. We crack up a lot especially scenes with Rachel, if you just smile a little bit she just cracks up and it's contagious and then I can't stop laughing. At times we have to do scenes not looking at each other in fear that we are going to screw it up.

What else can you tease about Season 2?
You know there will be a re-election. I can tell you that through the course of the re-election a love-triangle will be formed. In the midst of the love triangle, in a lot of ways, the roles will be reversed from how they were in season one.

Check out Cress as Mayor Lavon Hayes on Hart of Dixie which airs Tuesday's at 8/7c on The CW.

Tags: Exclusives, Hart of Dixie, Interviews, Cress Williams