Raphael Sbarge is a busy man. You may know him as Archie/Jiminy Cricket on Once Upon a Time, but he also founded non-profit organization and is the Executive Producer for an Internet series staring Ed Begley Jr.
In what little time he has in between, I caught with with Sbarge last week to talk about Once Upon a Time Season 2, his charitable work and a lot more...
-------------------------------------------
Now that the curse is broken, does Archie remember he's actually a cricket?
Yeah, that's the thing. There's that moment where we all kind of have that whoosh of the purple smoke. Everyone is going through a crisis of consciousness. How that then shakes out…my favorite line from the premiere was [when Henry said] Hi Grandpa, which I thought was funny.  My kids loved it, too. 
They have very skillfully created this remarkable world and then turned it on its head. Only writers with an extraordinary amount of confidence and skill would be able to do this as they did... A lot of people said, They broke the curse! I can't believe they did it at the end of the first season. I think that was calibrated to stay a step ahead of the audience at all times, and that's obviously been the hallmark of what they did the first season and on Lost, so they're good at that.
So yes, indeed Archie is aware, as is everyone.  I imagine it as if you found out if you were adopted at the age of 40 what that must be like. Everything you knew to be true is no longer and obviously so many roles have changed.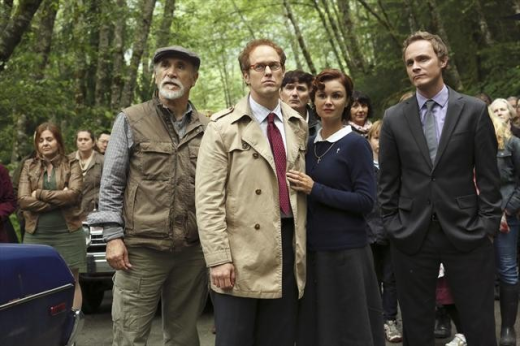 You are heavily involved with a non-profit organization called Green Wish. What can you tell us about it?
Green Wish is an organization that I founded with the environmental godfather Ed Begley Jr. and his wife, Rachelle. I came up with this idea and they loved it. They are the face of the organization and then also on its board. They now sort of keep it steering straight. The concept of Green Wish is essentially that it is a non-profit that raises money for other non-profits in the green arena. As opposed to helping one, you help nine. The cut across a spectrum of earth, air, water, and sustainability education. We started in Los Angeles.

The program theme is similar to when the cashier adds $1, $3, or $5 to your purchase but in this case 90 cents on the dollar goes from Green Wish to these organizations. All of the organizations are sort of established and vetted and they're all local. So the money that gets raised in that community all stays within that community. What we've done is we've taken this concept and now expanded out to do these around the country. So we're in Kansas. We're about to open in Missouri, Chicago, Cochella Valley. We're in talks about going up north into Portland and to Utah.

So the concept becomes sort of an open source charitable giving. Once it gets anchored in a city, a board gets created and they get to identify the non-profits that get the money and then partner with the retailers. They basically take the money and then filter it back into their community.  The concept was born out of the fact that I'm a dad and when my daughter was born I was thinking what could I do to make this place even a little bit better than I how I found it. Obviously, it's really easy to get to environmental apathy very quickly because there's just so much terrible news that we read about all the time.  It's easy to get to feeling it's all going to collapse anyway.  In this case the idea was to create a conduit that makes it as easy as possible for people to support organizations or a concept of green sustainable conversation. And not have it go just to one but multiple groups and have it be small and local. 

You can go to www.Greenwish.com where you can find out more about us and are Halloween program as well.

I also hear you are producing a special project for PBS with Ed Begley Jr.
Yes, in my relationship with Ed and Rachelle, there was the non-profit conversation and the for profit conversation. They're building a platinum LEED certified home.  I think it's one of the only if not one of the very few platinum LEED residence. They bought a house thinking they could actually remodel it and in the course of that they realized that they couldn't. They had to deconstruct it, which they did board by board. So opposed to coming in with a Caterpillar and knocking it down, it was literally deconstructed and diverted almost 96% of the house to Habitat for Humanity which took it and sold pieces of it.  Then all the lumber was shipped to Mexico to build a chapel. Even though it's great lumbar from 1937 you can't use lumber here that's been repurposed in the United States.

But anyway, everything was recycle and we're now building this home. We created sort of a showroom and it's called On Begley Street. It began as an internet show. We did a kick started campaign to raise awareness and a few bucks. We got a lot of press about it.  In the course of completing the initial eight episodes of the deconstruction of the house we have gotten express interest from PBS.

PBS has given us their PBS Plus letter saying they want us on their network. So, we are now actively getting a lot of wonderful response from sponsors who are interested in participating in this. We have to get our sponsorship in place to complete that but the idea is that this will be for the 2013 season. There's a website which is www.OnBegleyStreet.com which has updates and lots of information.

Switching gears a little, if you could star on one current TV show, other than Once Upon a Time, what would be your dream job?
There's so much good TV out there isn't there? I love Mad Men for the period. Homeland is pretty awesome. Game of Thrones. If I had one, I had to say I would want to be on, for numerous reasons it's Downton Abbey. Just because of the costumes and the writing is so spectacular. Those actors are so incredible. So, that's my pick. Isn't it cool that that's also on PBS.

Can you give viewers any hints about what to expect this season on Once Upon a Time?
Archie will be working with the queen in some upcoming episodes to get her the help that she needs. What you can also expect is a remarkable parade of new characters. We've met Mulan and Sleeping Beauty. Captain Hook is coming and I know about six more. It's a huge sort of expansion of the canvas of the Once Upon a Time family. I think if you like what you saw last year, you're going to be even doubly excited by the stories that are coming your way.

C. Orlando is a TV Fanatic Staff Writer. Follow her on Twitter.

Tags: Exclusives, Interviews, Once Upon a Time