The Walking Dead introduced viewers to The Governor on Sunday night, as David Morrissey made his debut in a role fans of the graphic novel series know well.
What can we expect from the head of Woodbury? How does he differ from the book version? TV Fanatic jumped on the phone with Robert Kirkman and Morrissey to find out...
TV Fanatic: How did you merge the character of The Governor from the books with the one on television?
Robert Kirkman: I think that people that are familiar with the comic book Governor know that he's kind of the pinnacle of villains in that series and is really just kind of a devious, horrible, terrible human being. He's a villain that you absolutely love to hate.
When it came time to adapt that character into the television show, we're really doing everything we can to try and add as much more nuance into that character as possible… We're accentuating the politician side of the character. We're trying to show that he can be a lot more seductive than he ever was in the comic book series.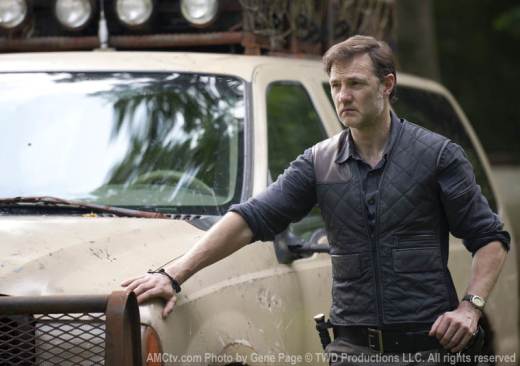 TVF: How does the Governor decide who to trust?
David Morrissey: Any leader of a community knows that certain people have to do certain jobs. You know they have to do certain functions within the community for the community to exist successfully... After [this week's] episode, it's not just Andrea. I think he can recognize that she's someone who could be very valuable to Woodbury.

He doesn't want the National Guard there obviously, but he wants other people there who can help out and not challenge him and his authority, but can work in this sort of structure that he's laid down. And I think what we explore is Robert wrote a wonderful book called the "The Rise of the Governor," and the Governor appears in the comic books and it's the time in between those two books is where we're exploring the character where he leaves from "The Rise of the Governor" to the beginning of the comic book.

As for that chilling concluding scene from the latest episode?

Morrissey describes it as needing a "sense of if you're going to survive in this world you'd better have a thick skin and be able to desensitize yourself to the things that you are going to see around you.

"And I certainly think there's a sense of the Governor doing that. It's also his play thing. It's his man cave. It's where he goes, so it's about where he looks inside himself and through his - into the deepest place inside himself and that's where he goes for that. That room is very special to him."

The Walking Dead moves and murders on this Sunday with "Killer Within."

Jim Halterman is the West Coast Editor of TV Fanatic and the owner of JimHalterman.com. Follow him on Twitter.

Tags: The Walking Dead, Interviews