Week two of Cult was much less confusing than the show's pilot, thanks in part to there being less back and forth between the show within the show and the "real" world.
I'm sure this being the second episode and viewers knowing what to expect probably had something to do with the lack of confusion, too, but that's way less fun a reason.
I was glad that "In the Blood" felt grounded in the "real" world and Jeff's search for Nate. That, to me, is the central storyline of the series, at least at this moment. Tonight definitely opened up more avenues for the story to develop.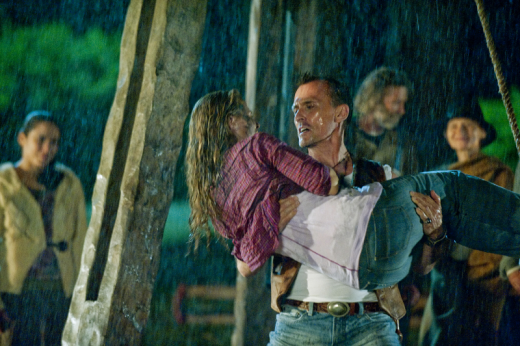 Jeff and Skye got one step closer to finding Nate, thanks to Jeff's coworker EJ, who was none to happy to find Skye working with him, and we also learned who might be the leader of the True Believers.

EJ located an area from which Nate's last phone call most likely came and Skye believed the call to have come from inside a kid's bounce house. She was right. They were able to see that as of the night before, Nate was still alive. And he was with late Miriam's husband. Miriam's husband who swore that his wife never watched the show. 

The same man who lip-locked with Detective Sakelik during his wife's funeral.

Okay, so maybe lip-lock is a little bit of an overstatement. But he definitely left his wife's memorial service to deliver something to Detective Sakelik and get a smooch from the bad cop after being told that his wife's suicide had thrown "them." Them being the True Believers.

The True Believers later took Miriam's husband out by burning his house down, but not before they could strip his wallpaper where he'd written the same kinds of notes that Nate had written in his notebook. And not before Miriam's husband could utter the key phrase of the True Believers: "Well hey, these things just snap right off."

Here are these cult members, assimilated into modern life. They work. They play. They keep the peace. And then they kidnap people and sew their mouths shut for daring to interfere with visionary Steven Rae's idea of what his show should be.

Jeff wondered tonight if he could trust Skye, a conversation the two of them teased during an interview last fall. She says that she is trustworthy because her father's disappearance 10 years ago may have had something to do with his investigation into Steven Rae, creator of Cult. She believes that he can help her find out what happened to her father and admits that the reason she took the job as a researcher was to hopefully learn about Steven Rae. So far, she's had no luck.

And those who dare to question Steven often go missing, so it's not like there are tons of leads out there for her to follow. Her father. Segal. Perhaps even Roger Reeves! Billy Grimm himself isn't safe if Steven feels that he's and his following are being threatened. 

Following the clues and figuring out just who the True Believers are is one of the things that can and will keep Cult interesting. Who can we trust? Who can Jeff trust? And just who, exactly, is Steven Rae?

What did you think of "In The Blood?" Are you hooked on Cult yet?

Miranda Wicker is a Staff Writer for TV Fanatic. Follow her on Twitter.

Tags: Reviews, Cult