Touch Exclusive: David Mazouz Speaks on "Intense" Season, Jake's Journey
by Sean McKenna at .
David Mazouz might play a character that doesn't talk on Touch, but when I recently spoke with him over the phone, the actor had plenty to chat about.
The bright 12-year old actor dished on some fun behind the scenes stories, along with what's in store for his character Jake and an "intense" season two.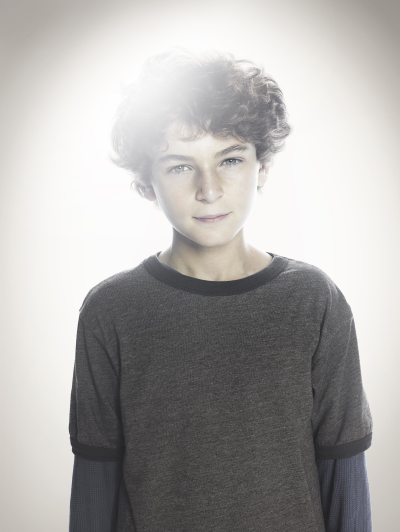 Not surprisingly, Mazouz is interested in activities most kids his age would partake in, including: playing the guitar, singing, basketball and hanging out with friends and family.

In fact, working on Touch has allowed him to connect with everyone in a way that feels like a second family, making it one of the best parts of working on the series.

"I would say everything's great, but probably the people [are the best]. Everybody is just so nice. Everybody is teaching me different things. Kiefer [Sutherland] bought me a guitar. He bought me stuff for my 11th birthday. He's even teaching me how to box a little bit, even some chess."

The actor added: "After the first season, we took about a two or three month break, and I went to school and I got kind of got back into the routine of a normal kid's life. And then I just got back into [working on the show again]. It's just so much fun. It's not easier or harder [coming back for the second season]. It was more fun because I knew everybody and I wasn't having to try and make friends anymore. It was just a blast."

Unfortunately, while he doesn't get to know the story far in advance he did find it funny when his friends would ask about what was going to happen and he simply told them they'd have to tune in.

However, Mazouz's character of Jake is unique to television in that doesn't speak (aside from voiceovers), meaning that the actor really had to work at bringing the character to life.

"In the beginning, like before we started shooting the pilot, I worked a lot and very intensely with Kiefer, the director Francis Lawrence, and the technical advisor, and they taught me how Jake walks, how Jake turns, all his physical behaviors like how he does this, how he does that. So, I kind of learned Jake during that week of that. After that I just kind of took off. Every once in a while, I'll get some direction like 'I think Jake would do that' or 'Intense. More intense,' stuff like that. For the most part, they pretty much let me go with it."

Interestingly enough, many of Jake's glances at the camera aren't scripted at all, the actor said:

"Usually what will happen, and same thing with those smiles that I have, (I mean the smiles sometimes, but the looking at the camera never), It's kind of just we do the scene and then at the very end of the scene, where the camera's on me and there's nobody else in the room, the director will sometimes say, 'Okay, look at the camera and now give me a little tiny smile.' It's stuff like that. It's never really actually scripted. Every once in a while, they'll do that like 'Try looking at the camera for the next one.'"

However, Mazouz did reveal that not speaking has its difficulties: "It's easier because I don't have to memorize any lines, but it's more difficult because I have to show what I'm thinking, what I'm feeling. I guess you could say that's more difficult."

The season premiere did imply that perhaps we might hear Jake speak and when I asked if that would happen this season, the actor coyly responded, "Um, maybe. You'll have to wait and watch."

Whether we do get to see that happen any time soon, Mazouz said he'd love for his character to talk.... because does so himself. A lot.

 "I think my mom will want me to talk too because when I don't talk on set and stuff, I come home and am a talking machine," he laughed. "I would definitely love to be able to talk and memorize some lines. I think that if I start talking, but not a bunch, it'll be like a double up. I'll memorize lines and I'll have to show my thinking and feeling through my facial expressions if I'm not talking a lot. So, yeah, I would love to talk."

Of course, playing a character that sees numbers and patterns has made Mazouz more aware of those types of things during his own life.

"I don't always see numbers and patterns and stuff, but I always see the numbers they use on Touch and things like 'well, if that didn't happen, then that couldn't have happened.' The other day for example, I had some math homework and the page number was 318 which was the very first number in the pilot. And me and my mom were driving a car once, and there was this bus, and the bus number was 318. And there was another one where I had an audition in room 318."

But it's great to hear that even though Touch is steeped in drama and mystery, the actors like to joke about on set.

Mazouz said he had "plenty" of funny stories to share. To wit: "There was one last season in episode seven where there was this scene and at the very end of the scene, I walk into a building with Kiefer. Right before the last take we were about to do, Kiefer said 'Okay, in this one, you're going to stand by the building.' So I stand by the building. He whispers something to the director and the cameraman, but nobody else, and then he tells me not to walk into the building. He pretends to slap me in the face and I react and everybody on the set [gasps] like 'What are you doing!' It was funny."

So what's in store for Jake this season?

"I think Jake's character really changes and evolves and he gets much closer to [his father] Martin. He becomes a little bit more like a human in this new season. He's still Jake, but he's not as distant."

Watch David Mazouz discover secrets and uncover life's mysteries as Jake on an all new episode of Touch tonight at 9/8c on Fox.

Sean McKenna is a TV Fanatic Staff Writer. Follow him on Twitter.

Tags: Exclusives, Interviews, Touch
From Around the Web