As announced late last week, Drop Dead Diva has been taken off life support, as Lifetime and Sony reached an agreement to air a fifth season later this year.
While there's no official airdate, creator Josh Berman told us this morning that new episodes will be coming this summer. He also shared the inside scoop on the UN-cancellation of the beloved series, while giving us an idea of what we can expect going forward...
----------------------------------------
TV Fanatic: Why couldn't this have been figured out months ago before the show was actually cancelled? If you can talk about that…
Josh Berman: There's nothing really that I can't talk about because there's nothing secretive about what happened. I think that no one could have anticipated the outpouring of support from our fans, which was nothing like I'd ever seen. There were tens of thousands of names on a petition to save the show, fans created videos and put them on YouTube, on Twitter we started trending for the first time off and on after the cancellation….although we always knew we had a loyal fan base, I think everyone was surprised how vocal and strong the fan base was and it was the fans that saved the show.
For me, being on hit shows – some of the most popular shows in the world – like CSI and Bones, you get accustomed to fans loving the show and seeing them online but I've never seen the passion and the feel of Drop Dead Diva fans in any show I've worked on.
TVF: The fact that Diva is trending on Twitter when new episodes aren't even airing!
JB: It's crazy! We haven't been on the air for over six months but even when we're off the air our numbers on Facebook continue to grow. I think what happens with a show like Drop Dead Diva, a lot of people discover it on Netflix. I think that's why we continue to grow every year. It's the kind of show that if you've watched a couple of season on Netflix you can easily catch up.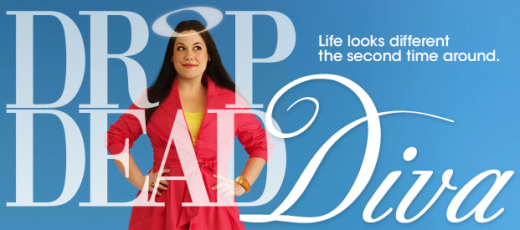 TVF: Did anything change during that time you thought you were cancelled? Were you thinking about a two-hour movie to wrap things up or an alternate plan?
JB: There were a lot of different options on the table. While we were cancelled, a handful of other networks quickly expressed interest in picking up Diva so it quickly became a decision not whether we were going to be cancelled or not but what we were going to look like after Season Four. It was always my first choice to stay on Lifetime. I felt like Lifetime gave birth to the show, it's the home of the show and that was the biggest issue.

I never contemplated wrapping it up in a two-hour movie. I really just felt confident that there was going to be more life to the show, I just didn't know where that would be and I'm thrilled that we're back on Lifetime and I'm also excited that Lifetime is talking about multiple seasons beyond season 5 now that Lifetime and Sony have worked out, the financial arrangement.

TVF: So the new deal is for 13 episodes, right? And what's the timing for production and seeing episodes?
JB: It's 13 episodes, same as every year. We'll start production probably in mid-to-late April and we'll be back on the air this summer just like we are every year. I'm guessing sometime in June but I don't know.

TVF: Normally when you get renewed, you know much earlier so are you behind the eight ball to get the episodes written?
JB: I'll be really honest. During the negotiations to bring us back, I never stopped working. I'm actually perfectly positioned to get us back on the air in time.

TVF: For the fans, what can they expect in Season Five?
JB: I believe that the first four seasons served as a platform for Season Five but now the pieces are now all in place to tell the story I want to tell. I think you're going to see our characters come into their own, which will make them more empowered but also more in conflict with each other. I think Jane is now fully content who she is as a human being but she made a huge mistake at the end of Season Four when she kissed Grayson in front of Owen. I think that sets up the conflict and the spine for Season Five. Jane is infallible and she has to live with the consequences of her actions and what great material for story!

I also think we have with Kim being pregnant and I've never been more excited to write as a season as I am for Season Five. There are so many good stories that it took four season to get my characters to a place where I can write the stories I want to tell for Season Five. I will say the thirteen episodes of Season Five already have a beautifully shaped arc that are going to leave the fans wanting more but feel like they're really being rewarded for sticking with the show.

TVF: And will we be getting visits from other worldly types like Fred in the future?
JB: I'm never ruling out anything! Ben Feldman, who plays Fred, has an open invitation to return to the show. He joined us twice in Season Four so I wouldn't be surprised if he comes back in Season Five. I also have been contacted by a bunch of actors while we were cancelled who made it very clear that if the show was picked up, they'd love to come and do an episode with us.

Jim Halterman is the West Coast Editor of TV Fanatic and the owner of JimHalterman.com. Follow him on Twitter.

Tags: Exclusives, Drop Dead Diva