From the final episodes of Spartacus to the season finale of Pretty Little Liars... from the premiere of of Mad Men to the return of Awkward... I've enjoyed a full week with your favorite TV shows and now it's time to empty out my Notebook.
And just a reminder that I'll be moderating the Teen Wolf panel on March 30th at WonderCon, so leave me a comment here with questions or tweet me @JimHalterman. Will I see you there? (For details, go to the WonderCon website.)
SPARTACUS: WAR OF THE DAMNED There are only three episodes left of the bloody good series and tonight's "Separate Paths," (10p.m. on Starz) is a doozy. Having already it,  there are multiple emotional and physical moments that are as intense as any drama you'll find on television. It's obvious creator Steven S. DeKnight is not holding back with these last episodes and in the truest sense of the words, nobody is safe.
If you need to catch up, next Friday will feature a marathon of the previous three episodes before the final two air on April 5th and 13th.
MAD MEN The Mad Men cast may have been tight-lipped at the junket for the launch of the series' sixth season - which kicks off April 7th - but creator Matthew Weiner did talk about how he sometimes misses being in another seat besides the driver's seat, such as when he was a writer on another cable phenomenon.
"I do miss sitting in the passenger seat sometimes and holding the map. David [Chase, who was Weiner's boss during his time on The Sopranos] is someone that I am basically in awe of, we created that thing from zero, he had worked thirty more years than me, he knew everything about TV and production and filmmaking and his imagination was completely unfettered, nothing had changed."
Much in the way Weiner steers the Sterling Cooper Draper Price ship, his inspiration seems to have come from Chase: "Every storyline you see, whether it was about a little girl or a 90-year-old man or two people on vacation, this man was just channeling humanity. That's what I try and emulate the most is: all human stories are interesting. You don't put a kid in a show because you need a device. They have a story, too. And trying to see the story from everyone's point of view."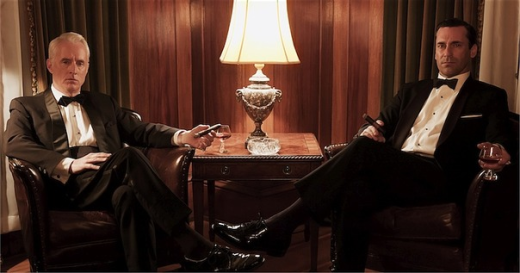 PRETTY LITTLE LIARS I'm still thinking about the third season finale of ABC Family's hit series, where we may have learned a lot (Mona doesn't even know who Red Coat is?) but in true PLL fashion there were just as many new questions (who or what is in the trunk of Detective Wilden's car?). We'll have to wait until June when the fourth season kicks off - but Troian Bellisario, who expertly teased the finale earlier this week, is also busy with a few other projects.

Besides her stellar work this season as Spencer, Bellisario also has a new film, Consent, coming out. And she also told me all about the second season of the online Wigs series that she's starring in along with Jennifer Beals.

"Pretty Little Liars takes up a lot of my time and we shoot for nine months," she said. "So to do other things is pretty rare, but to be able to do that to work on Lauren is completely different, it just feels so good because you learn so much."

The subject matter is more grounded in reality than PLL, but is just as intense and powerful with Bellisario playing a woman in the U.S. military who comes forward about an injustice she endured: "I learned so much about the military and about the issue of sexual assault in the military and about the war is still going on," she explained, making a point to say that the experience has definitely been a positive one for the actress. "You grow as a person and expand your view of the world," she said, "and I just hope for many, many more opportunities to do that."

Wigs can be found on its YouTube channel.

AWKWARD MTV announced earlier this week that the third season of the teen sitcom is back on April 16th at 10 p.m. and that we'll see big name guest stars like Anthony Michael Hall (who gained fame for his roles in teen film comedies like The Breakfast Club and Sixteen Candles) and Nolan Funk from Glee. And as the Awkward Season 3 trailer tells us, there's going to be more romantic struggles, hilarious situations and a rumor that Sadie (the awesome Molly Tarlov) is preggers.

While I would reveal the answer to the 'Is Sadie pregnant?' question, I did get Tarlov to tell me the theme for the new season and tease what fans are going to love seeing with the new episodes: "I would say the theme of this season is expanding horizons and evolution. There are major may-jor shenanigans this season and I'm so excited for the fans to see them! New problems, new fun, new friendships and new loves."

I'm actually going to the Awkward set on Monday so I'll see what else I can find out for you fellow Awkward Fanatics! 

That's a wrap for this week! Anything else you're dying to know about your favorite show? Leave a comment here or you email me directly at jim@jimhalterman.com. And remember: follow @TVFanatic for all your TV scoop

Jim Halterman is the West Coast Editor of TV Fanatic and the owner of JimHalterman.com. Follow him on Twitter.

Tags: Mad Men, Pretty Little Liars, Awkward, Spoilers, Jim's Notebook