It's a special Tuesday for Megan Hilty.
Not only will we see her character, Ivy, tussle with guest star Sean Hayes on tonight's episode of Smash, but the singer-actress' album, It Happens All The Time, is released today.
While Ivy may be all about Broadway (and the same can be said for Wicked alum Hilty), her CD takes an unexpected route. We chatted with her Monday about it and, of course, whether Ivy is ever going to get back into Bombshell: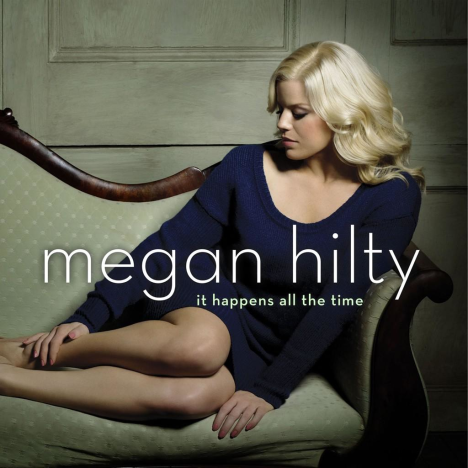 TV Fanatic: I remember talking to you about a year ago about the CD coming together. How you feeling now that it's finally coming out?
Megan Hilty: I can't believe it's happening.
TVF: You've been through launching Broadway shows and TV shows. Is it a whole different beast putting out a CD?
MH: It's a totally different thing because it's just me! I'm not in a group of people and I'm not telling a story or playing a character so it's very personal. It's just me.
TVF: The song choices are great. "It Happens All The Time" is the title track. What does the song mean to you?
MH: It made sense for that to be the title because it encapsulates what the whole album is about. People fall in and out of love all the time and it kind of turned into a breakup album. That wasn't the intention, I guess. I was going to do an album of covers and it was going to be all songs from the movies but once we started getting these original songs and demoing them, so many of them worked that we quickly abandoned that idea.
TVF: What was it about the original songs that hooked you? The lyrics or something else that draws you in?
MH: It's always about the lyrics for me. I guess that's the theater girl in me. I guess I always have to be telling some kind of story so I was drawn to the lyrics of all these songs and I think everyone knows what it's like to go through a breakup unfortunately so I think it's a pretty universal thing that people can identify with.
TVF: I'm sure you've heard from people wondering why this is not a Broadway tribute album. Why not?
MH: That's exactly why I wanted to do this because it's unexpected. I wanted to do something that was just me and not attached to any show or character or anything. I wanted to stretch myself and be more vulnerable at the same time.
TVF: The covers are great. I love your version of Aimee Mann's "Wise Up" and, also, I felt like you owned "Dare You To Move." How did you pick the covers?
MH: Oh my God, thank you! Actually, all the covers that I do are still under that whole theme of the soundtrack songs. That's where we originally got them and they were also some of my favorite songs. They were the ones that worked the best. I love all those songs individually and all the artists so it's kind of my own little tribute to them.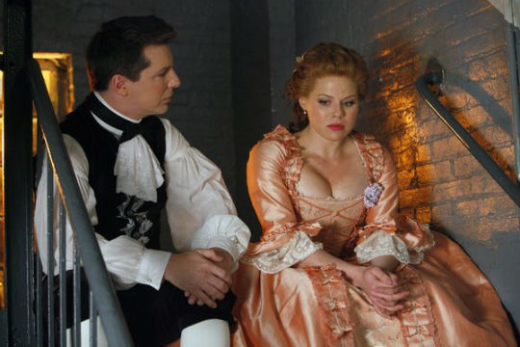 TVF: Now let's talk Smash. You're paired up with Sean Hayes and he's making Ivy's life a little challenging at the moment. What can we expect in this week's episode?

MH: It's so great because I feel like this is a part that nobody has seen him play before so I'm excited for people to see the rest of his arc. He has a huge music number [in this week's episode] and I actually sing a classical piece from that show ["Liaisons"] this will be completely unexpected.

I don't think a lot of people know I trained classically growing up. That was the direction I thought I was going in so when Marc [Shaiman] and Scott [Wittman, the show's composers] asked if there's something I really wanted to do I said, "Can you write a classical piece?" They said "We've never done it before but let's give it a try!" It's really fun and it's a really, really naughty song! [laughs] There's much more between me and Sean. We have a really interesting relationship on the song. And he's the nicest person. He is just the greatest guy so we had the greatest time working together.

TVF: It looks like Karen is probably going to be going the Hit List route so can we expect Ivy to get back into Bombshell.

MH: It's a possibility but the problem is that she's locked into this other show. It looks that way but it's not going to be that easy.

TVF: It never is on Smash, is it?

MH: No, or in life!

TVF: I know everyone is using the term "hate watching" with Smash and Josh Safran [Smash's showrunner] has said he doesn't mind. What do you think?

MH: First of all, at least they're watching! And, second, whenever people lump our show with the other shows that they hate watching I really like those other shows so it's good to be in their company. But, really, I could care less. I have the greatest job in the world and I'm so lucky to get to do that every day and that's all I focus on. Whether love to watch the show or love to hate watch the show, at the end of the day, I'm obsessed with my job and I'm glad people are watching.

Smash airs Tuesdays at 10pm on NBC. For more on Megan's "It Happens All The Time" CD, visit her website.

Jim Halterman is the West Coast Editor of TV Fanatic and the owner of JimHalterman.com. Follow him on Twitter.

Tags: Smash, Megan Hilty, Exclusives