Smash Review: Reinventing the Shows
by Carla Day at .
The worlds of the three musicals on Smash all righted themselves on "Musical Chairs," with Jerry the one left without a place to sit.
Bombshell returned to Eileen's control with Tom directing and Ivy as Marilyn. And The Hit List got a production deal from a non-profit theater with Jimmy and Karen as the leads with Derek directing. And Liaisons got put out of its misery, but not before an epic performance.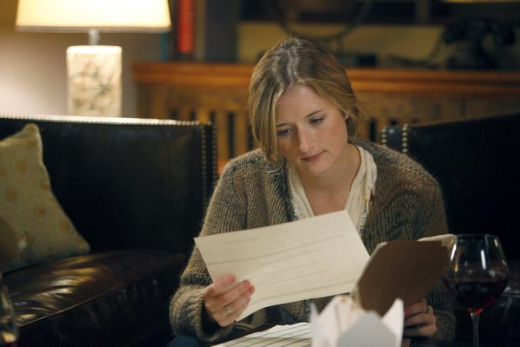 Liaisons bombs
Ivy cracked me up when she responded to Terry's concern over the "meh" reviews. The show had improved, but it was horrible to start. Their decision to have fun with it was probably not the professional one, but it was worth it to see Terry's act. That was hilarious. Horrible, but a performance that no one in the audience will ever forget.

With the production shutting down, it freed Ivy to rejoin Bombshell as Marilyn. I liked Karen in the role, but Ivy was always better in the part. If Ivy hadn't self-destructed during Smash season 1, it wouldn't have been a contest. It's not always about the best performer, but the best fit that gets the job. And, Ivy is the best Marilyn and the perfect fit to work with Tom.

The Hit List gets a theater
Jimmy and Ana preformed for Scott and the non-profit theater board. They loved the show and Scott wanted to produce it. The hitch was that he wanted it for their small 80-person underground theater stage. Derek was understandably disappointed. The move from a Broadway show to a tiny theater was not what he had in mind. Scott suggested they clarify a theme and better broadcast it for the show and present it again.

I've defended Jimmy's attitude up until this point, but no more. His refusal to make any changes to the show went beyond protecting his creative vision. It showed his ignorance about the process of making a musical and his immature arrogance at his talent. He's a gifted song writer, but that doesn't mean his vision was the best for the production. If he wasn't going to at least consider the producer's input, then Derek should have run away and not stopped.

With Tom directing Bombshell, it was inevitable that Karen would leave and join The Hit List. Jimmy and Kyle's show is a better fit for her talents. Though, I'm not sure how she could afford to leave a Broadway show for the smaller production. Sometimes, it's the love of the work though and not the paycheck. She showed her dedication by giving up the higher profile job as well. 

Jimmy and Karen performed a new song, "Rewrite This Story." Scott and the theater board loved it and were enthusiastic about producing the show. It was a beautiful song that set the tone and theme for the musical. Jimmy also started to redeem himself by listening to the criticism of the show, working on changes, and most importantly acknowledging Scott's input. Jimmy's comment to Scott was a small thing, but for him it was a huge shift in attitude.

Bombshell get a new life
The future of the show was at risk with Jerry holding it quietly hostage and with Tom as director. Eileen decided that she either wanted the show back or she would force it out of production. It was a risky move, but worked in her favor. Julia found the "silver bullet" to take Jerry out of the picture. Eileen held the rights to using Marilyn's diaries, which made up a good portion of the book.

Eileen threatened to withhold those rights and close down the show, if Jerry didn't give it back to her. With their daughter on board, Jerry acquiesced. If we never see Jerry again, that would be fine with me. He is such a slimy guy. It was touching though to see Eileen share with her daughter the happier times of their marriage.

Bombshell's production started to fall into place. Eileen was in charge, Tom was directing, Ivy was in as Marilyn, Derek signed over the choreography rights, and Julia convinced Tom to keep Marilyn's mother storyline in. This is Broadway though and troubles will certainly arise, but at least they had their happy moment and toasted the production.

The trouble with Karen
Karen's decision to join The Hit List was the best for her and the production, but it could drive both Jimmy and Derek crazy. She clearly has feelings for Jimmy and that was part of the reason she joined the production. She quickly agreed to go out for drinks with him and looked excited at the idea. 

Then, Derek came in and messed everything up. Karen has been his muse, but Derek has never showed that kind of possessiveness over her before. It's not healthy and will certainly lead to conflict on the show. Will Karen continue to be blind to what's going on? Or, will she figure it out and clarify her feelings for both men?

There's a time for a good love triangle, but I don't see it working well here. Karen has never seen Derek in that way and I don't see that changing. Even though Jimmy has an attitude problem, Karen is able to challenge him and sees the best in him. Even without Derek's interference, a relationship between two leads on a show would be difficult. Maybe now that Ivy is back on Bombshell and Derek has his own show, they could get back together and make it work.

Is everyone now in the right place for them professionally? What do you make of Derek's sudden possessiveness? Which show will hit the stage first?

Carla Day is a staff writer for TV Fanatic. Follow her on Twitter and on Google+.

Tags: Smash, Reviews
From Around the Web