Syfy made a return to its roots with the debut of Defiance, the first true sci-fi series since the network switched its branding to broaden its show selection. What a rich and engrossing two-hour return it was too!
As the pilot opens in 2046 we are treated to a narration by Irisa, the Irathient daughter of Jeb Nolan, a human. Nolan and Irisa are ark hunters, who are like modern day treasure seekers chasing the falling debris of the ships (Arks) that brought several new races to Earth 33 years ago.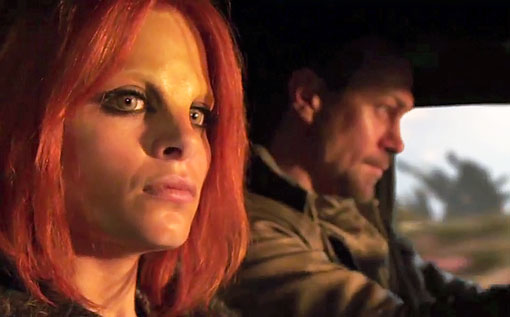 Nolan and Irisa quickly go from ark hunters hitting the mother lode to being robbed by an Irathient Badlands gang. This plight is the catalyst for them to end up in Defiance, the town built on the remains of modern day St. Louis. 
In Defiance we learn that on the surface the new mayor is still trying to get her feet under her, while the two most powerful families feud: the Tarrs, who are Castithans and the McCawleys, who are human. If tensions are not stressed enough between the families, the youngest child in each family has feelings for the other. 
Both patriarchs are not crazy about their children dating and it results in a clash that ends with Nolan offering to help find the killer of Rafe McCawley's oldest son after it comes to light that Datak Tarr's son was not the killer.
At this point I knew Nolan would be staying in Defiance as the Lawkeeper. I'm actually more curious if he will end up deputizing his daughter Irisa, or will she continue to help "unofficially."
From the moment the series opened and Irisa and Nolan got away from the bandits by a coordinated effort that showed they knew each other really... well, I was hooked. Stephanie Leonidas does such a great job of showing emotion through the make-up she wears to become Irisa that I would actually forget that she was wearing make-up.
Nolan and Irisa had such great exchanges; it felt like they have really been together for a very long time. For example: 
Nolan: Relax; it's just like Kansas City.
Irisa: You got knifed in Kansas City.
Nolan: This is a completely different situation. | permalink
Julie Benz was great as the newly elected mayor. She clearly has a talent for politics she doesn't see yet, but the natural way she handles will make it fun to watch her grow and realize her strength. On the flip side we had her sister, Kenya (played by Mia Kirshner), who runs the local Brothel/Bar called "Need/Want."

The name alone tells you that Kenya will get you anything you need or want, which Nolan took full advantage of. Kirshner seemed to be trying a little too hard in this episode. But I'm willing to see where she takes it. Besides, I'm more curious if Kenya is really more than a one trick pony (no pun intended). 

Can she do more than play Madame? Does she really have the connections to get anything you need or want? Or is that only related to alcohol and sex? 

And apparently society has changed a lot in 30 years, as having a sister who owns/runs a public brothel had no ill effect on Amanda getting elected mayor. Hell, maybe it helped her to that position.

The weakest portion of the show was the "Romeo/Juliet" story between the Tarr family and the McCawley family. It was all so damn predictable. I realized they needed an anchor to make Nolan and Irisa get involved, but of all the ideas they could have come up with, borrowing Mr. Shakespeare's most tragic love story seems a bit heavy handed.

That said, if they move the plot along to a different path (i.e. the kids get married in only a few episodes), I'm willing to give it a shot, as we will be into new story telling area. How do you have a happy marriage between different species? How do you survive your parent hating each other? There are just so many options on that path; I really hope they take it. 

As for the other characters, currently I'm keeping an eye on Stahma Tarr. I suspect she is actually the brains behind Datak's rise to the powerful man he is. There were a few small scenes - like the bathtub - where she deftly guided him to the answer she had already determined and made he feel he had thought of it on his own. 

Overall, I'm very pleased with the pilot; the show has done a good job of telling an engaging story IN the future without it being entirely about the future.  Can this continue through the rest of the season? I think so, unless the shtako hits the fan! 

Jim G. is a TV Fanatic Staff Writer. Follow him on Twitter.

Tags: Defiance, Reviews