Nashville delivered a shocker last week when Will planted a kiss on the lips of the unsuspecting Gunnar, bringing up a number of questions for fans of this ABC drama.
Is Will actually gay? How is Gunnar going to be with his new BFF moving forward? And will we no longer see the guys sing together like they did on "Take These Chains From My Heart?"
Chris Carmack (Will) talked to me yesterday about what we'll see tonight, as well as what it's been like spending time in Nashville and what his own plans might be for a second season of the ABC hit series, if it gets renewed next week. Fingers crossed!
-------------------------------------------
TV Fanatic: That was quite a surprise last week!
Chris Carmack: I know! That was the idea behind it that you'd be surprised. A lot of people told me they did see it coming but that's good to have a reaction split like that. Some people didn't see it coming, some did. We tried to play the moment with a lot of subtleties so it would be a surprise but not a total out-of-the-blue moment.
TVF: Safe to assume that you knew the story would take this route when you got the role? Or not?
CC: It was something I found out about after the audition when they called to gauge my interest in the role. They floated that out there and it seemed, to me, a storyline that was really ripe for some great material. I said 'Let's go for it!'
TVF: How do we define Will moving forward? Is he gay or is there more to the story?
CC: I think we can all grow our own conclusion as a viewer but from Will's perspective, I think he's still very unclear and he's very conflicted and he's repressing a lot. He's shoving a lot down and I don't think it's as simple for Will as black and white. It's going to play out and I want to take that journey with the writers, as well.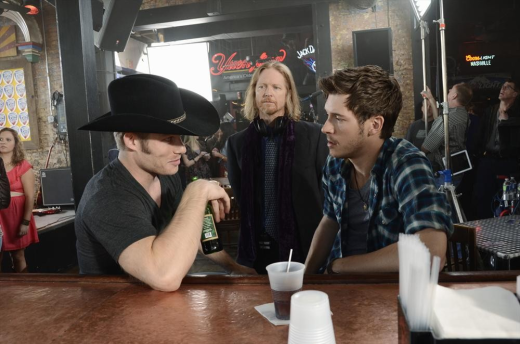 TVF: Will has been there for Gunnar over the last episodes but now Will is going to need somebody to lean on. Will we see that play out?
CC: I don't want to give too much away. In terms of what you're looking I don't think this next episode is going to answer too many of those questions but the following episode is a big episode for Will and a lot of that will be addressed.

There are a lot of storylines to go forward and there is a continuation and there is tension between Will and Gunnar. One thing you have to think about is that it's kind of a disrespectful thing to do because [Gunnar] is in a relationship. It was kind of a betrayal of Gunnar's trust because he's with Scarlett. Moving in on a committed person is not a cool thing to do in general.

TVF: And singing and music is not a new thing to you, right?
CC: I've been writing music and I've been playing saxophone since I was a kid and I picked up the guitar 15 years ago and started singing maybe seven years ago or so. I did musicals in high school, as well. Music has always been a part of my life so this is a dream come true job.

TVF: How has spending so much time in Nashville shooting the show?
CC: I'd never been to Nashville before this and just spent two straight months [there] and kind of fell in love with it and had a blast. Fingers crossed for a second season, fingers crossed they really want to write for my character but I'm looking forward to spending more time in Nashville.

TVF: Country music isn't necessarily known for having a lot of gay singers or out performers. Have you heard people talk about that?
CC: You know what's funny is that it's not the people I've heard from but the people I've not heard from that surprised me. I didn't tell anybody about this storyline because I wanted to get people's honest response and see what would happen. After this episode aired, it was kind of radio silence. People didn't know what to do with it but now it's been trickling in. It's been very interesting. I don't necessarily know what conclusions to draw from it yet but I didn't tell people purposely and the reaction has been different than it has been on other episodes.

TVF: Assuming the show gets another season and you're a part of it, who would you like to see your character interact with more outside of Gunnar and Scarlett?
CC: Everybody in the cast is super talented and has been very, very gracious to me. I don't think there's a single member of the cast I wouldn't love to work with. I'd love to work with Connie [Britton] and Chip [Esten] but that's up to the writers where they send me. But I've been having a blast with Sam [Palladio] and Clare [Bowen], as well. They're such gracious actors and gracious people. I haven't had a bad day on set!

TVF: You spent two months in Nashville but is it hard to keep your fitness regimen on track when you're on set a lot and away from home?
CC: Yeah, it is. I'd say less so dietary but Nashville surprisingly has a lot of healthy food options, which has not been my experience working in the South before. There's a lot of healthy food around but working out in a hotel gym does have its drawbacks. I've been doing Crossfit for a year and really enjoying it and you can't get that done in a tiny little hotel gym.

TVF: Anything else coming up outside of the show?
CC: We should find out the word on a second season of Nashville [soon] so I'm kind of dragging my feet until we hear about that because that would potentially lock me up for awhile. So, right now, I'm just focused on getting personal affairs together and I may be making a move here soon so I'm trying to get my ducks in a row.

Jim Halterman is the West Coast Editor of TV Fanatic and the owner of JimHalterman.com. Follow him on Twitter.

Tags: Exclusives, Interviews, Spoilers, Nashville