Defiance Review: My Sister's Keeper
by Jim Garner at .
I'll start straight out with it: "A Well Respected Man" was the best episode we've seen yet of Defiance. It featured just the right balance of heart, action, drama and intrigue to make for a very enjoyable hour.
Also, for the record, I liked this Kenya. She was sexy, fearless and looked good in a duct-tape bustiere. But beyond that we actually got to see how smart she was and that she even has a soft side. Her conversation with Nolan about wanting him to visit because they were "fun" was a lot of fun, as was his comment to Amanda about where his eyes were located. I'm curious to see where she and Nolan end up.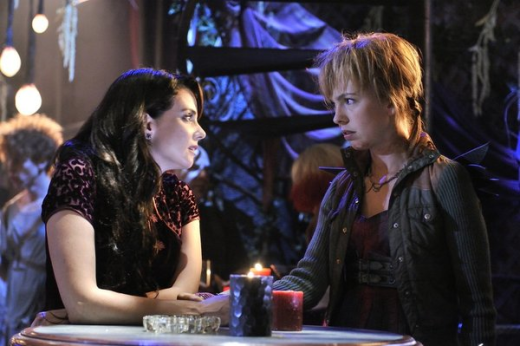 On the flip side we got to see Datak in his element, showing Nolan a bit about how to finesse answers out instead of "thumping heads." Ironically, the guy they went to see had already been thumped by Datak. I really appreciated his honesty with Nolan once Nolan called out his game. 

Stahma is the real dangerous one, though. I said it early on and she continues each week to prove me right. Getting her husband on the town council was pretty slick, as she never directly suggested it, merely pointing out that Datak needed respect and the council shouldn't have an empty spot for long.

I know in a cast this size we won't see everyone each week and here Irisa took a back seat. I don't think even said anything through the episode. I'm sure we will get more Irisa soon, and I'm okay with her being background when an episode is put together so well.

Did anyone else recognize SyFy alum Robin Dunne (Sanctuary) as Nicos the slam-head who heading up the draining process? I was hoping we would get a little more of him, but a glass shard to the jugular seems to cancelled that idea and solved a problem for Kenya. 

The icing on the cake for this episode was Amanda's confession to Kenya of what happened to their mother and who Saint Finnegan is (or wasn't in this case). I was so glad to see the two of them hug at the end of the episode that I couldn't stop smiling. This is part of what turned me around on Kenya. Now she feels like a full character.

Okay, SyFy, you've shown us what you can do, now we expect you do the same each week! For this installment, I'm giving this episode 4.5 "fun" nights for Nolan and Kenya! 

Jim G. is a TV Fanatic Staff Writer. Follow him on Twitter.

Tags: Defiance, Reviews
From Around the Web