Jack is about to be back.
Following a series of long negotiations, Kiefer Sutherland has signed on to reprise the role of Jack Bauer in 24, as original showrunner Howard Gordon will produce what Fox is billing as a "limited, event-type series."
Fox Entertainment President Kevin Reilly told TV Fanatic and other outlets on a conference call this morning that the drama will run over 12 weeks and premiere in May.
Unlike past seasons, it will skip a few hours of the day, focus on significant storylines from the latest arc and be subtitled "Live Another Day."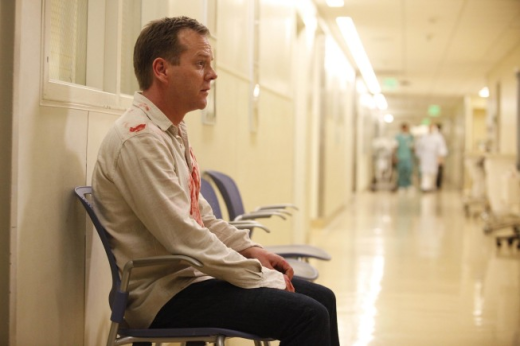 "It's great to have Jack back. '24' redefined the drama genre, and as we reimagine the television miniseries, this iconic show will again break new ground for the network," said Reilly. "The series remains a global sensation, and everyone at FOX is thrilled to be back at work with Kiefer, Howard and the incredibly creative '24' team."

He added that 24 is one of two limited engagement programs about which the network is excited.

The other, titled Wayward Pines, will be produced and written by M. Night Shyamalan. No premiere date has been set.

UPDATE: Says Sutherland in a statement:

"The response to '24' is unlike anything I have ever experienced as an actor before. To have the chance to reunite with the character, Jack Bauer, is like finding a lost friend. The story ideas from Howard Gordon are exciting and fresh, and will not disappoint. Great thanks to 20th Century Fox Television, Imagine Television and the FOX network for this opportunity. Make no mistake, my goal is to knock your socks off. See you soon."

Matt Richenthal is the Editor in Chief of TV Fanatic. Follow him on Twitter and on Google+.

Tags: 24: Live Another Day