There are so many great things about Nashville that it's unfair not to mention the issues that are preventing it from being a great show in its first season. 
Like most hours of the country soap, "Why Don't You Love Me" included wonderful music, fantastic work by Chip Esten and even a few surprisingly interesting moments.
But like any episode that includes political story lines, this 42-minute run time became roughly 34 minutes of plot I could actually pay attention to. The record may be broken, but it's a serious issue that the writers either need to figure out how to work in their favor...or completely drop.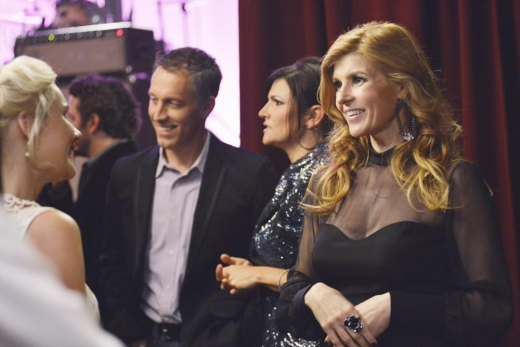 Another problem lies in the fact that even the more engaging stories are struggling these days, mostly due to lack of growth.

Watching Nashville, it feels like Juliette is facing the same issues over and over again. Her rep is a problem, her mom is a problem and she hasn't seemed to learn much over the course of this first season. The more they keep coming back to the same things, the less interesting it becomes.

Similarly, the Deacon/Rayna relationship, while recently taking a slight move forward, still feels like something that can't quite get going as a story arc. Both characters have gone back-and-forth many times on whether or not they could actually settle down on this idea of being together - and it's frustrating to watch.

The history is there for both of them, and they certainly love each other, but I can see this not working out again, and then everything will return to where it was. Only now, Deacon will have ruined everything with Stacy, and the dude will be all alone. 

Unlike our three leading characters, Avery Barkley has traversed so much ground as a character during Nashville Season 1 and it's been fun to watch.

From jealous boyfriend of a talented singer to up-and-coming star, and then down-on-his-luck roadie to band leader for Juliette Barnes, he has had quite a ride. All along the way, Avery has become more and more likeable, and Jonathan Jackson has proven to be a terrific actor.

Also terrific in "Why Don't You Love Me?" Esten as always. His best was definitely that scene in the limo when Deacon decided to tell Rayna that he knew she was hiding something from him and he didn't care. With eyes just on the cusp of tears, Esten is so good at playing the hurt soul.

Not so terrific was Sam Palladio in that morning after scene. I understand it must have been awkward for Gunnar to keep that momentous event from Scarlett, but the acting performance wasn't just awkward by Palladio, it was tough to watch. He does much better with happy scenes, so let's cut him a record and get him moving to bigger and better things.

What did y'all think of "Why Don't You Love Me?" Was it a step in the right direction for Nashville? Or did you have trouble enjoying it like me?

What were your favorite moments? What were your least favorite? Will Juliette's drinking become a problem? When will Rayna's Maddie secret come out? And what are your predictions for the final two episodes of the season?

Dan Forcella is a TV Fanatic Staff Writer. Follow him on Twitter.

Tags: Reviews, Nashville