Shane Brennan is a busy man.
He created NCIS: Los Angeles. He's behind its potential spinoff, Red. And he's also developed the new series coming in June to TNT, King & Maxwell.
But Brennan still found time to jump on the phone with TV Fanatic this week and talk about his myriad of projects.
----------------------------------
TV Fanatic: Let's start with King & Maxwell. What are the different challenges in creating the show based on the David Baldacci books? An NCIS spinoff is one thing but this is coming from a different – and very popular - source.
Shane Brennan: David Baldacci has sold over 130 million books around the world, and a whole bunch of those are based on King & Maxwell. It would be pretty crazy of me to adapt those books and give my particular take on King & Maxwell. It has to be David's take so the audience will recognize it. Otherwise, the audience who love the characters in the novels will be critical of the characters on the screen. It's very challenging.
Baldacci actually has said so publicly [that] we have surpassed his great hope that these characters would translate to the screen, and you can thank Rebecca [Romijn] and Jon [Tenney] for that. They are astonishing as King & Maxwell.
TVF: Let's move over to NCIS: Los Angeles, which of course has another couple that everyone's rooting for to get together, the whole Kensi-Deeks relationship. Can you talk a little about what's coming for them in the finale.
SB: It is one of the powerful season finales we've done because of what's at stake. Anyone who's watched the season knows that there are a bunch of nuclear weapons about to be sold on to the market and all that comes to a head in the finale…because there's so much jeopardy because the stakes are so much higher, you find characters doing things that they wouldn't normally do. Under that pressure, we certainly see hints of something unexpected, something that the audience has perhaps wanted to see but it comes in a surprising way. It provides a moment…let me say, a bittersweetness to the Kensi-Deeks relationship in this last episode of the season.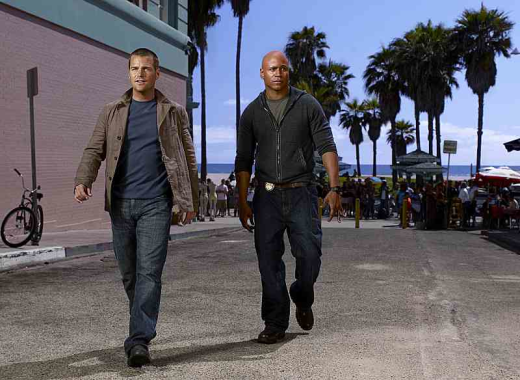 TVF: In "Raven & The Swans," Callen questioned Hetty's recruiting tactics and her background, which we got a really nice back story there. Is that just filling in gaps there? Or is that something that's going to come to light in these next episodes?
SB: That's almost, in fact, setting up something for next season. This season we focused a lot of our storytelling Sam revealing the other side of Sam, the fact that he's married to a woman who turns out to be a former CIA agent, who has been reactivated. We focused on that, but we haven't done much on the Callen story. We touched on various parts of the Hetty-Callen backstory. Certainly in "Raven & The Swans," we touched on that some more.

It is, in fact, though, setting up what would be a pretty astonishing season in season five, where we focus on Callen. We restart his journey of discovery, and it clearly involves Hetty, and it will take us into some very surprising places next season.

TVF: How are Callen and Sam? They seem to be in a good place just partnership-wise. Is there conflict between them in these next episodes?
SB: Well, one of the interesting things that happens in the finale is that, because of the circumstance of the episode, all of the partnerships are swapped around. We've done this once or twice before over the last four seasons, and there's always been a certain amount of fun. It takes on much more of a dangerous element in this season finale with these changes.

We have Deeks and Sam partner up. These are two characters when we put them together there was always friction. All that's turned on its head because of the circumstances that they find themselves in…this episode goes to a very dark place. Particularly, the last two scenes, it's quite grueling to watch. The stakes are very high because we're talking about these new weapons [and] as a result, what we have is probably the most powerful last two scenes of NCIS: LA that we've ever done.

When I was watching the cut [of the episode], I had to look away. I won't tell you what I was looking away from, but it will take you to perhaps, the reality of what can happen to these undercover agents when things don't go quite the way they were planned.

TVF: Assuming the Red spinoff goes forward, how will it be different from the other shows in the franchise?
SB: I didn't want to do NCIS: New York. To me, and I've worked on a lot of different procedurals over the years, both in this country and in Australia. And the thing that the audience always ultimately hankers for is, so what do they do when they go home? That's what Red is. You get to see them at home. You get to see them in the pressure cooker of working and living together, and this has a different pace and feeling than the other two. It will be a different show, but within the NCIS franchise, but in the NCIS world. This thing goes about solving crimes in their own particular way, and that particular style they have is based on them having been forced to work and live together.

So the lines between their personal lives and their work lives, they're not blurred, they're just totally intermingled so they can be on their way to the laundry, and have to stop and track down a suspect. They can wake up in the morning, argue over putting the strap on their guns and go to a crime scene, and when there's a crime scene argue over who's going to do the dishes when they get back, and who was snoring, and all those sorts of issues that we have when we get into the personal lives of people. To me, it seemed to be a great opportunity to see what the other side of the coin looks like.

NCIS: Los Angeles airs Tuesdays at 9 p.m. on CBS. King & Maxwell premieres June 10th at 10 p.m. on TNT. We'll find out about Red next week when CBS announces its fall programming slate.

Jim Halterman is the West Coast Editor of TV Fanatic and the owner of JimHalterman.com. Follow him on Twitter.

Tags: NCIS: Los Angeles, Exclusives, Interviews, Spoilers