Defiance Review: Something Borrowed, Something Dead
by Jim Garner at .
Defiance has fully recovered from its recent plague and "The Bride Wore Black" finally brought us to the nuptials of Romeo and Juliet, Christie McCawley and Alak Tarr.
Like their literary counterparts, Christie and Alak have had a rocky relationship due to family drama and racial/cultural differences. Thankfully, though, we were treated to a happy ending with a wedding instead of the story following William Shakespeare's lead into tragedy.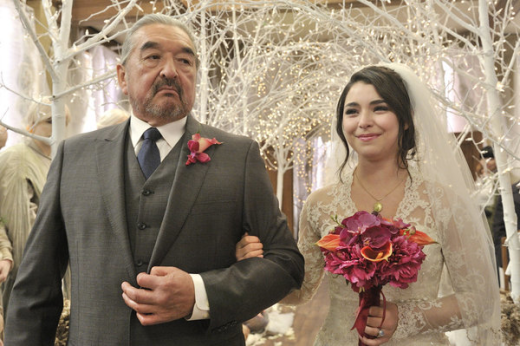 There were a few surprises along the way. First and foremost was Rafe McCawley with a twofer. He figured out that Datak Tarr was using the wedding as a way to get access to the McCawley mines and took steps to prevent him from ever getting it. 

The second shock was him accepting Alak as the person Christie loved and that being enough for him to be willing to take him in if Datak turned him away for marrying Christie. I've known that Rafe had a soft heart under that gruff exterior and it was nice to see him soften so easily for love. 

On the flip side, we had Datak Tarr throwing a tantrum when he realized that Alak's marriage to Christie was not going to gain him access to the mines. What surprised me about this move was that Datak had previously been more calculating - and cancelling the wedding after that news was showing his hand. 

Fortunately, between Rafe and Stahma, the ceremony continued and Christie and Alak were able to wed without further drama. 

With that exchanging of vows out of the way, we can now go on to the bigger event(s) of the night, of which there were several, starting with the revelation that ex-Mayor Nicky is actually an Indogene. If that wasn't major enough, Alak Tarr and his friends found the body of Kenya's husband Hunter Bell in the wall of the Need Want, having been there since he disappeared seven years earlier. 

While the former item totally blew me away, the latter item seems like it was shoe-horned in without it being completely thought through. 

Right off the bat, how would nobody smell a body rotting in the wall? Second, watching in flashbacks, Nicky walk around with the cane that she killed Hunter with, it seemed that she used it a lot, wouldn't Amanda, Kenya or Tommy have recognized it as hers and not Datak Tarr's? 

Okay, getting past those small points, the final surprise of the night was Doctor Yewll deciding to end Nicky's budding psychopathic rampage after she killed Jered and made it appear as if she killed herself over it. I have to commend Doc Yewll on her courage of doing the right thing overall, even if she now scares me more than ever. 

My friend Erik and I talk Defiance every Tuesday morning and any mention of my affection for Doc Yewll has always been met with derision from my counterpart. Apparently I owe Erik an apology now, as his instincts about Yewll may be better than mine. Then again, she wants to be a healer not a destroyer... maybe there is hope after all.

In the bigger picture, I wonder what Nicky's death is going to mean for Amanda's chances as Mayor. If it gets out that Nicky is a murderer who killed herself, her endorsement won't be worth shtako to the residents of Defiance. 

Further, given how far we've seen that Datak Tarr has come in seven years - from back street brawling to City Council - can he really be stopped without some (or all) of his own dirty laundry coming out? With Stahma pulling the strings, it seems unlikely. 

Overall, it was one of the best episodes this season, as seeing Irisa show up at the wedding and hold hands with Tommy brought such a smile to my face. I'm giving this episode 4.8 blushing brides in honor of the wedding.

Do you think Amanda is going to be able to win the election for Mayor? Will Datak Tarr's past be revealed to stop his accent to power? Sound off below! 

Jim G. is a TV Fanatic Staff Writer. Follow him on Twitter.

Tags: Defiance, Reviews
From Around the Web