Man. Just when I thought I had a handle on how each of the town residents would interact with each other....
Datak Tarr decided to turn the town on its side by playing more dirty that normal on "Past Is Prologue."
Datak using Nolan's military record against him and Amanda was nothing short of genius. Oh, it was completely evil and mean... but genius nonetheless. Being able to arrange for Nolan to do what he does best and then turn that action against two people takes some brains.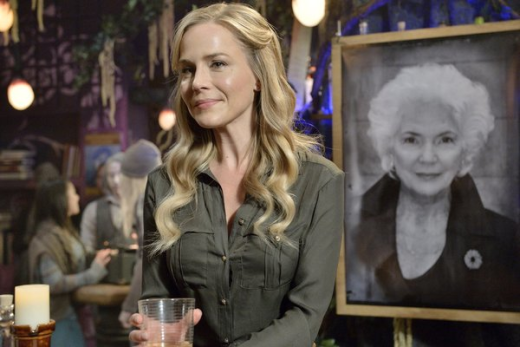 Kenya also has some brains in her head. She's figured out that Stahma played her and isn't taking it quietly. I had to admire Kenya's attitude and spirit facing off against Stahma, as exampled by:
Stahma: The election is over tomorrow, you can't change anything.
Kenya: I'm not trying to change anything, I'm just trying to hurt you. 
I think the wild card in here is going to be Alak. Between Rafe beating a warning into him about disappointing him as his new son-in-law, and Alak not knowing that his friend was going to get killed, there is a better than average chance Alak may turn on Datak. But I'm not holding my breath.

I adore Amanda's loyalty to Nolan. She can see and believes in the good inside him. I'm not sure anyone beyond Irisa has ever trusted him as much. Speaking of Nolan, he really does care about Defiance and, had Irisa not stopped him, I have a feeling there would have been no need for an election. 

I do have to compliment Irisa's beautiful boot to the head on Datak Tarr; she would make The Frantics proud. 

While we are talking about Irisa, holy shtako... what came out of her back? Doc Yewll called it a Votan parasite and from what we saw it looks like the gold medallion that Luke had, that Quentin gave to Nikki and finally Yewll experimented on had the same type of parasite in it. 

Given that one was silver and one was gold, could they be a mated pair? Could this be the source of Irisa's visions? And how does Rynn fit into all of this? The season finale next week really has a lot to cover. 

Overall, I'm giving this episode 4.3 votes for Amanda as she wants to do the right thing and believes in Nolan. 

Jim G. is a TV Fanatic Staff Writer. Follow him on Twitter.

Tags: Defiance, Reviews