If you had asked me what I thought would happen at the end of this week's installment, I might have said that Graceland would lose an agent.
But ask me now how I feel about that Briggs bombshell and I might tell you that, thanks to "Hair of the Dog," the game has definitely changed.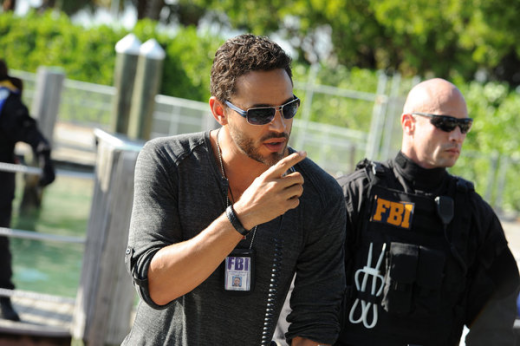 I honestly thought I'd be writing this review about how Briggs really doesn't always know best. He tried to counteract Charlie's drug-induced illness by giving her more drugs. Not to mention the fact he went completely behind Mike's back and had Johnny detonate a bomb that made it look like Johnny was gone. 

Then Briggs went and did something decent and responsible: he got help. Clearly he must have been attending these NA meetings for a while now. And being the master undercover agent that he is, managed to hide it from everyone in the house, perhaps his best performance to date.  This shows that maybe he does know better than I would be willing to give him credit for.

This is especially true in the way he dealt with Charlie in taking care of her, doing what he thought it took to save her career. Granted, lots of us were probably yelling at the television screen that Charlie shouldn't take the dose... at least I was. Then again, perhaps it gave her just enough to make her presentable to the bureau.

I really appreciated that scene between Charlie and Johnny during the deposition. He saw her hands shaking and reached out to calm them, even as he fell on the sword for her and Briggs. I knew Johnny had it in him. It seems the loyalty that Briggs has instilled in the house has really taken hold in all of its occupants. 

In a lot of ways I thought it was going to be one of Johnny's last acts before knocking on fate's door. Luckily Briggs, and the writers, had other plans. So it probably made the moment stand out even more. Overall, I think I'd just like to see more of this relationship between Charlie and  Johnny, which reminds me of that shared by siblings.

One relationship that spans the gap between inside and outside the house is that between Abby and Mike. I loved how Paige kept it real with Mike about accepting the realities of the job he's working and desire to be normal. Normal doesn't exist at Graceland, so neither can their relationship. Abby desires honesty, and that's one thing the Mike simply can't give her. 

Even more lies will be added to Mike's repertoire now that he shares Briggs secret. Not only does he have to keep it from the rest of the housemates, he now has to re-evaluate how he deals with his ongoing investigation into Briggs and what he reports back to the bureau of the same. That's sure going to make for an interesting follow-up report.

What do you Gracies think about the Briggs bombshell? In what ways do you see it changing the game for Graceland?

C. Charles is a TV Fanatic Staff Writer. Follow her on Twitter.

Tags: Reviews, Graceland
Want more Graceland?
Sign up for our daily newsletter and receive the latest tv news delivered to your inbox for free!
From Around the Web
More From TV Fanatic
The road to healing and closure is a long one. Some of our agents are on it, others are struggling. Check out our Graceland review of "Magic Number" now.
On tonight's The Bridge, Sonya and Marco deal with the aftermath of saving Eva. With their lives in danger, how will they protect her?
Jeff and Jessica try to fight off the SEC, while Mike struggles to make good on an investment, causing more rifts as he does it. Can Pearson Specter survive the onslaught? Read our Suits review of "Leveraged" now.
On the Extant series premiere, astronaut Molly returns from a 13-month trip to space with a condition that seems impossible. Read the review for details!
---