Rookie Blue pulled some "Skeletons" out of the closet this week, leaving several characters struggling to deal with the consequences.

Below, TV Fanatic Christine Orlando hosts fans Alison and SeanAndEmma from Two Worlds Collide: A Sam Swarek/Andy McNally Fan Forum for this week's Rookie Blue Round Table, where we debate what Nick will do next and if Andy really was Sam's "personal punching bag."
-------------------------------------------
What was your favorite scene?
Alison: I have to go with the Gail/Ross Perik scene. Charlotte's acting was fab with her coldness/toughness and then spilling her secrets to the chilling Perik who referred to Jung and Frankl.
SeanAndEmma: My favorite scene was when Dov and Ollie were working together.
Christine: Nick and Gail's conversation in the truck. Finally they were honest with one another and it was heartbreaking.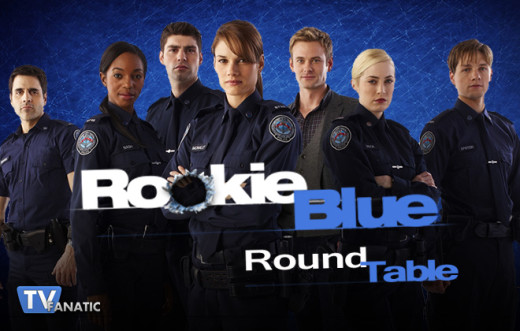 Was Sam treating Andy as his emotional "personal punching bag"?

Alison: I think he did at first because she knows him the best and was there with him when Jerry died.  Sam is obviously still struggling with his emotions, but he did apologize to her later.  Baby steps.

SeanAndEmma: Was Sam treating Andy as his emotional punching bag? I would say yes. He wasn't being nice to her.

Christine: I think he was taking out is distress on Andy in much the same way he did after Jerry died and I was proud of Andy for calling him on it.

Do you think Nick will pursue Andy now that he and Gail are over?

Alison: I think Nick is going to try to spend more time with Andy and she'll step up as his break-up buddy. Nick better watch it, though.

SeanAndEmma: Yes, I can tell he has feelings for her.

Christine: Even though his head will tell him it's not a good idea, I don't think he'll be able to help himself.


Now that Luke's back, is their a female character you'd like to see him paired with?

Alison: I really liked Luke's scenes with Gail. I think they could make an interesting team and they can relate to one another.

SeanAndEmma: Yes, Gail.

Christine: I agree with both of you. Gail and Luke would make an interesting couple and I want to see more.


Who most needed a hug? Traci, Gail or Shaw?

Alison: Trick question, I think they all needed one. Gail at the end had me feeling bad for her standing in the cold rain, even though I don't agree with her insecure cheating behavior.

SeanAndEmma: I would say Traci because of what happened with Jerry.

Christine: Traci's quiet heartbreak had me in tears. The girl most definitely needs a hug.

C. Orlando is a TV Fanatic Staff Writer. Follow her on Twitter.

Tags: Rookie Blue, Round Tables