Suits Season 3 Scoop: Gina Torres Teases Jessica/Harvey Conflict, Challenges Ahead
by Chandel Charles at . Comments
Nobody likes it when Mommy and Daddy fight, and Mommy and Daddy have been fighting for a little over the season.
No one knows that better than Jessica Pearson, as the actress who behind this character, Gina Torres, was quick to point out during our set visit interview last month.
"The falling out Jessica and Harvey had really had to do with Mike and his betrayal, and bringing him in and also him becoming a huge liability to her firm," Torres told me of the turmoil between Harvey and Jessica that finally reached its head during the Suits Season 2.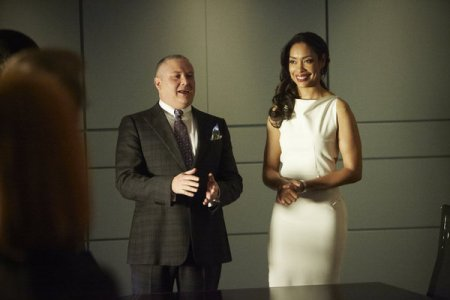 Torres went on to say the Jessica/Harvey conflict grew not only from their shared secret, but also from Jessica struggling to "appreciate who [Harvey] is and what he brings to the table and treating him just as a senior partner... she wants what's best for him."

Over the course of past episodes, Jessica had to ask herself: "Am I ready to stake the firm on somebody who is so reactive? He's so reactive and he's so emotional, and all his decisions are so emotional. And she's like, 'I'm trying to save my firm, dude.'"

In the end, as viewers are now aware of, the answer was no.

Jessica's mentality is very much 'I'm over here, minding my own firm and taking care of my own business. But if you're gonna come after me, be prepared,' and Torres believes "everyone is starting to pick up on that and that's nice."

Harvey and Jessica's journey this season is "about finding even ground so that we can actually talk to each other and actually hear each other again," a tough challenge given the influx of British associates and the fast pace of life at the firm. Of course, this common ground might be difficult to find when the person you're trying to find it with has openly declared his intent to go after you, as Harvey does in the Suits Season 3 previews.

In addition, fans should be ready to see our favorite associates struggle with "who is it that [they] want to be, aspire to be, see themselves as - and who is it that's looking back at them in the mirror in order to be happy" throughout season 3. Torres reminds us that, despite the ongoing tension between them, "Harvey and Jessica are sort of each other's mirror."

What else can we expect from the newly merged Pearson? Read our recent interview with Sarah Rafferty Keep coming back for more from my set visit as we count down the days until the July 16 premiere and visit our Suits forum to discuss in details.

C. Charles is a TV Fanatic Staff Writer. Follow her on Twitter.

Tags: Interviews, Suits, Spoilers