The ugly truth came out on Breaking Bad this week: Jesse now knows about the Ricin and Walt's hopes to get away with his crimes may soon be going up in smoke. Quite literally.
Aside from that bombshell, "Confessions" featured a Mexican standoff; a desert showdown; and one of Walt's most diabolical schemes to date.
Scroll down now as staffers Matt Richenthal, Steve Marsi and Sean McKenna discuss these topics in more in the latest edition of the TV Fanatic Round Table...
-------------------------------------------
What was your favorite scene from the episode?
Matt: Joy may not have been the emotion Vince Gilligan was going for when he wrote the DVD confession scene, but it's what I felt. So utterly unexpected and intelligent that I couldn't stop smiling the moment Walt uttered Hank's name on tape.

Steve: Walt and Jesse in the desert, home to so many classic Breaking Bad scenes. The tension was palpable, the lighting and filming spectacular, and the direction superb, as you almost take for granted with this show. But I also found it kind of hilarious having seen that fake Walt-Jesse rom-com trailer.

Sean: The DVD confession was intense in that it completely flipped the table on Hank and I was riveted with each sentence Walter spoke in his confession. Pair that up with most uncomfortable dinner scene ever - complete with overly excited waiters, peppy music in the background and a family back and forth that was full of tension - and those two scenes sucked me in at first and then blew me away with the follow up. This show keeps nailing it at every turn.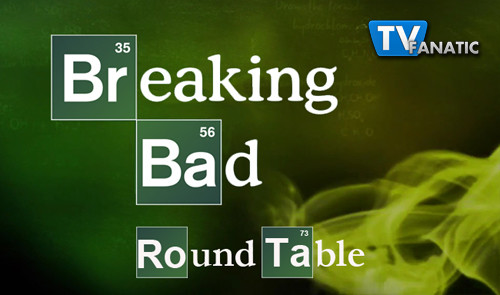 More shocking: Walt's DVD confession, Jesse's Ricin discovery/reaction or an appearance by Walt Jr.?
Matt: I think you mean Flynn, but he's clearly the answer.Where has the guy been? Stalking the cereal aisle of his local supermarket? I was just glad to see he's okay, though less glad to see him the latest victim of Walt's expert manipulation.


Steve: The DVD confession. It was so unexpected, brilliantly executed and painstakingly played in its entirety while Hank uttered nary a word. Just genius.


Sean: I'd like to say Walt Jr., especially because his scene didn't involve breakfast, but Walt's DVD confession was jaw dropping. I never saw something like that coming and to put Hank suddenly in the center of it all while cleverly admitting to everything? I felt like Hank and Marie watching the DVD, speechless followed by the sudden realization that Walt totally screwed them. Walter White is one bad dude.

Do you think Hank and Marie stuck around to eat after Walt and Skyler left?
Matt: Probably. Who turns down quality Mexican food? Hank really shouldn't be downing such large glasses of Knob's Creek on an empty stomach. But did the grub stay down for long after they watched Walt's confession? I doubt it.


Steve: Mexican food in the ABQ? How could you not?!? And this taqueria in particular, no doubt selected by Walt for its lively, crowded atmosphere, has to be pretty good by that measure.


Sean: I heard the guacamole was amazing there, but I'm pretty sure Hank and Marie ordered something a little stronger than the waters they were given.

What has been your favorite final season confrontation so far: Hank vs. Walt; Marie vs. Skyler; or Walt vs. Jesse?
Matt: Walt versus Hank because it came first and was the least expecting, taking place so soon in the concluding run of episodes. But the fact that I can't figure out if Walt even meant his hug toward Jesse or if he's incapable of anything but manipulation makes the most recent stand out for a different, impressive reason.


Steve: The quality of acting in all three confrontations would be the zenith to which most shows aspire, but I have to go with Hank vs. Walt, the culmination of five-plus seasons' worth of tension, yet completely out of left field at the same time. The scene was top-notch on merit, but who thought they would go there so soon, with seven episodes left? After Walt vs. Hank, Jesse and Marie lashing out at the Whites felt inevitable. Still gripping television, but inevitable in a way that Walt vs. Hank was not.


Sean: I agree with Steve about the Hank vs. Walt face off. It's a moment we've been waiting to see for so long, and one that could have easily been dragged out until the last two episodes. Except we got it immediately with the show's return and fantastic acting from Bryan Cranston and Dean Norris that put their close encounter of fists flying and "tread lightly" on the top of the show's great moments. Truthfully, all the match-ups are great (and I'm looking forward to Jesse vs. Walt again), but this showdown took the series in a whole new direction.

Tags: Breaking Bad, Round Tables