Hell on Wheels Review: Where's the Beef?
by Sean McKenna at .
I was worried after the Hell on Wheels Season 3 premiere that with Bohannon taking the reigns of the railroad - rather than continuing his revenge route - and the rest of the characters simply falling back into their respective places, the original excitement and interests of the underrated show might dwindle away.
But "Range War" was the reaffirming truth that with a little bit of time, new blood in a series might be the right step after all.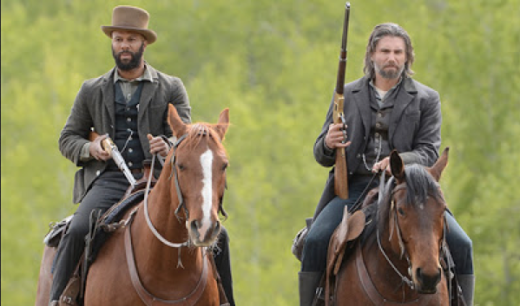 And where "Big Bad Wolf/Eminent Domain" was the slow start of setting everyone back on the track of building the railroad, the third episode provided the beginnings of some real conflict and story direction for the characters, all with some cool action, slow-mo shots and a little much needed humor.

It's clear that Bohannon is in charge and the workers around him are keen to follow his lead, but it was made far more evident that he hasn't lost his edge in the process. He can bark out orders, glare at others with command and can certainly take to getting involved as well.

Rather than the predictable attack on workers by the Native Americans (a stereotype in and of itself explored in the episode), the cattle theft was orchestrated by a group of white men presumably under orders from Durant.

In a classic shootout, Bohannan and Ferguson descended on the would-be thieves guns blazing, taking no prisoners. Bohannon felt like he was in his element, deftly taking out men left and right. Granted, some were drunk, lazy and half naked in the water, but still... enemies to the cause no less.

Ferguson has definitely gotten to be a better shot, contributing to the assault, as well as wiping out the last remaining survivor after he decided to run. I couldn't help but laugh when Bohannon exasperatedly said Ferguson's name in response to killing off the final person.

Of course, Durant played the innocent card, but it was a grand sight watching Bohannon step right up and call him out. And bringing the dead body to the table was a touch of perfection.

I'm still a bit hesitant on a battle between these two, but perhaps their drastically different approaches might make it all the more entertaining. After all, Bohannon didn't get rid of the McGinnes brother who had worked up a deal with Durant last episode.

Plus, the fact that Bohannon does indeed still act like a gunslinger even with his new found leadership role maintains that rough edge, but promises to be something more.

Unfortunately, another adversary Bohannon has to worry about is the union soldiers who decided to follow out Bohannon's original orders of slaughtering a group of Native Americans simply because they are the expected enemy to the United States. The leader was sinister enough playing with the heads of the deceased and commenting on their inhumanity, all the while shouting about great times ahead.

I hope he gets what's coming to him.

But the action sets up retaliation for Bohannon's workers, and further illustrates the conflict of the warring sides. And there isn't much that Bohannon can do with things set in motion, but prepare and deal with the situation. It's just disappointing that there are people that would ultimately cause more problems than necessary, but that was clearly a concept that many back then thought in facing off against the "savages."

It was also good to see a somber Bohannon placing the heads in the woods as the quiet final moments rather than another voiceover explaining everything.

As for Ferguson, he's got his own issues to deal with, besides new sheriff (I'm still bummed about the last one getting killed off). Turns out, Mr. Toole had a brother and that brother is looking to take over the familial role with Eva and the new baby.

And despite, Ferguson's repetitive "She's mine" (No DNA tests back then), Declan Toole looks like he's going to be sticking around for quite some time. It'll be interesting to see how that relationship works out, and the future of the new Mr. Toole seems promising.

But thank goodness the eccentric and fantastic Mr. Swede is back. He may seem to be playing a good person now, but I fear for the family that picked him up. When he raised that axe, I was waiting for him to bring it down on all of them. Even when they were sitting preying, there was some great tension simply from the fact of the character that he is that filled his short scenes.

I can't wait to see him return to the main storyline, but even on an off path, he never ceases to engross.

This was an action packed episode, full of some great lines from Bohannon, an interesting new relationship with Durant and Maggie Palmer (who already is a good addition), and a collective beginning of situations from the warring Native Americans, domestic issues and overall fighting over the railroad. This was what I was looking for in the premiere, and I'm pleased that Hell On Wheels still has that wild, exciting side.

Sean McKenna is a TV Fanatic Staff Writer. Follow him on Twitter.

Tags: Reviews, Hell on Wheels
From Around the Web