Low Winter Sun Series Premiere Review: Blurred Lines
by Sean McKenna at .
When a show starts off with a steely Mark Strong, as Detective Frank Agnew, shedding a tear before killing off a fellow police officer - all seemingly in retribution for another murder - you know you're in for a grim tale on AMC.
While the moody story originated as a British mini series in 2006 (also staring Strong), this version of Low Winter Sun sets its sights on Detroit, unraveling the criminal underbelly of the Motor City, the police force that attempts to provide law and order and the consequences of murder, lies, deceit and corruption. There's no such thing as good cops and bad criminals in this world intent on blurring the lines between the two sides.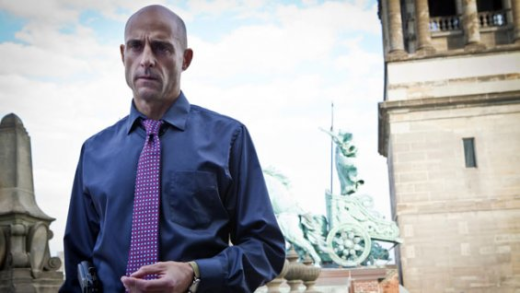 It's easy to immediately compare shows like The Wire and The Shield, both serialized cop dramas also rooted in the characters and settings, but that doesn't have to be a negative. And there's definitely high potential from the pilot to allow the series to become its own entity and not simply a knock-off.

And what really makes the episode an enticing hour are the characters involved and the actors bringing them to life.

Mark Strong, who has found himself more recently on the big screen with films like Kick-Ass and Sherlock Holmes, is perfect as Agnew. This is a character who appears to have things under control, yet is complicated and perhaps even more conflicted underneath. And there's something about the dark and piercing looks Agnew gives along with the way he carries himself that makes you want to know more.

Maybe it's the bald head, the purple ties, or his questionable moral stance in his ability to commit the perfect crime that makes him even more compelling.

Equally as such is Agnew's partner in crime, Joe Geddes, played by Lennie James. He's clearly not a sidekick to Agnew, and portrays his own level of complicated cool. He seems far more easy going of the two, but also perfectly okay in murdering his own partner, Brendan McCann.

Why? And did he know internal affairs was after McCann that's ultimately pulled Agnew into a world he might not be able to escape from? Is Geddes more connected to the criminal underworld than we think?

We do get to see the opposite side of the cops with Damon Callis, a crime lord who wants to lead his own reign rather than succumb to Alexander Skelos, the leading mob boss of Detroit. Unfortunately, that task of overthrowing the so-called king involves McCann who just happens to be dead.

Callis, played by The Wire alum James Ransone, is definitely ruthless taking zero time in killing, and it's interesting to see his relationship with his wife, Maya, who also happens to be in on his schemes.

But I've got to hand it to David Costabile, who many might recognize as Gale from Breaking Bad, portraying the cunning, intelligent internal affairs officer. There was something about his mannerisms and his hunting ability to get to the bottom of the corrupt McCann that immediately provided another convincing antagonist for Agnew.

He's not one to quit at the sign of a problem.

And where it all starts off with the seemingly simple crime, things begin to spiral out of control, of course with internal affairs sniffing around, followed by the discovery of McCann and an extra body cut up in similar fashion as Agnew's love in the back of the vehicle.

For now, nothing really feels new in the sense of the general story with corrupt cops, drug lords, etc, but none of that deters from making the show engaging. It's easy to want to know more, and the characters involved, who we've barely scratched the surface, look to be equally exciting especially when things will start to get more intense and gritty as the show progresses.

The lines definitely don't look black and white, and when it comes to characters, that's always great for TV.

There was some dialogue that felt stilted and like lines being read from a script. Also, there's no real humor to be found from any of the characters, which really just means that lightening things up is probably out of the question for this show.

That said, Low Winter Sun has set itself up nicely, and while I'm looking forward to getting more into the minds of these cops, criminals and everyone involved, the journey laid out looks to be ripe for storytelling. AMC should have another hit on it's character driven hands.

Sean McKenna is a TV Fanatic Staff Writer. Follow him on Twitter.

Tags: Reviews, Low Winter Sun
From Around the Web