Voluntarily checking oneself into a mental hospital to uncover a suspicious death seems like a bad idea, especially if one just happens to have paranoid schizophrenia and Sigmund Freud as an imaginary sidekick. But it certainly makes for an entertaining and revealing episode of Perception.
It's interesting that the show would send Daniel Pierce on his own to work a case, and I understand that it would be a lot more difficult for Kate Moretti to fit into the hospital, but it definitely showed that Eric McCormick can carry his scenes as the lead character. As if that wasn't obvious before.
McCormick has become so adept at playing Daniel that every finger tap, sideways glance or inquisitive gaze feels natural for the character. And while Daniel was able to do a bit of method acting himself, it came close enough to the line to be believable when he was ranting about the CIA being after him.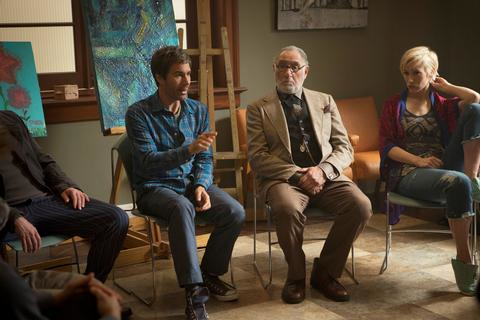 And it seems so easy to want to clump all the patients into a "crazy" group, but this show, and case in point, Daniel, have revealed there's so much more beyond that.

Sure, it's cringe worthy and gross to imagine someone with a compulsion for swallowing sharp objects like a letter opener; or seemingly wrong for someone to hear strange voices. But it's clearly not their fault for those things, it happens to be the brain that adds those aspects to a person.

After all, Daniel hallucinates others, but viewers have come to know him as much more than his disease. And it was good to see different types of patients, all revealing certain truths even if things like scary supernatural doctors had the potential to cloud the real answers.

Now, the real bad guy, posing as the basement living doctor, was kind of bland and pretty forgettable. That said, it was good to see Daniel figure it all out on his own (or with some Freudian help).

Kate got to fill in as bartender for Sullivan & Son, as her dad went away on vacation. Too bad he didn't stick around, but it did give her time to bond with charming Donnie.

It was rather fun seeing them outside of the office with some cheerful camaraderie. And while the kiss may have been staved off for now, there's definitely more to come from these two. Consider that Donnie was even able to shout to Kate's father that he still loves her.

I'm curious as to where Donnie and Kate's relationship will go, but I like the chemistry between them and would be OK if they tried to get back together. Guess we'll find out.

If anything, amongst a seemingly dark beginning, the message of hope rounded out "Asylum." There's definitely promise for all no matter what the circumstance and it's good to see Perception utilize a concept like sending Daniel to ultimately explore the mind in a mental hospital, all before to revealing a positive conclusion through it all.

That's not crazy. That's just well done.

Sean McKenna is a TV Fanatic Staff Writer. Follow him on Twitter.

Tags: Reviews, Perception