Jane and Maura's lives were complicated by three different men in "Built For Speed." One was a jerk; another was handsome, smart, and nice; while the third had a history of licking faces.
Well, one out of three ain't bad.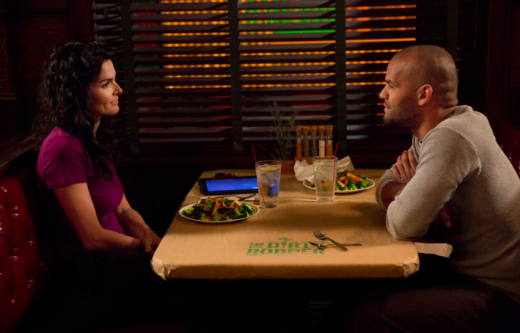 Let's start with the best and work our way down. Eric Winter guest starred as Brandon Thomas, otherwise known as BT, a handy moniker for the uber-smart bomb tech assigned to help Maura figure out what caused a car to explode. 
I had to laugh when Jane told Maura in this Rizzoli & Isles quote…
Actually since your last boyfriend was Dennis the serial killer, I'm all for BT. | permalink
Considering Maura's past love interests, BT's competition wasn't all that fierce - but he's certainly looking like he has a lot of potential. And he gets additional points for being attracted to Maura's brain as much as her beauty. 
On to Bachelor #2: Giovanni. It's hard to believe that Giovanni and Maura ever went out on a date. They are so vastly different on so many levels. And, of course, there are his odd little quirks…
Barry: I'd take him off your hands for you but I hear he's a face licker.
Jane: Not my face. | permalink
Yup. The face licker returned. Thankfully he kept his tongue to himself this time... well, unless you include the spaghetti eating scene at the cafe.
But where Giovanni walked the line between making me laugh and making me cringe, Lt.Martinez just repulsed me. 
I completely disagreed with Maura on this one…
Maura: I think he's sexy.
Jane: He thinks he's sexy too. | permalink
Exactly. Rafael Martinez seemed to think an awful lot about himself. He was a jerk to Jane on the job yet tried to schmooze her when he thought he had the chance for a booty call. When Jane told him that she was involved with someone else, Martinez only response was to point out that her boyfriend's not here.

So Martinez was completely willing to steal another man's girlfriend, even when the man in question was a war hero serving his country overseas. 

Sorry, Maura, but when I look at Martinez I don't see sexy, I see jackass.

The murder of the week gave us enough twists and turns to keep me guessing. It even gave me hope that Lt. Martinez might get bounced, but no such luck. 

I had wondered about the parole officer from the beginning, but was still surprised when she turned out to be the mastermind behind the entire drug operation and the murder. Much like Jane, I wasn't disappointed that she was guilty because she was a woman but because she was a law enforcement officer. Finding out the good guys are actually the bad guys always makes it worse.

What did you think of BT? Do you have high hopes for he and Maura? And am I being too hard on Lt. Martinez or is he just the jerk he appears to be? Weigh in on the men hovering around Rizzoli & Isles.

C. Orlando is a TV Fanatic Staff Writer. Follow her on Twitter.

Tags: Rizzoli & Isles, Reviews