Scandal Producers Tease Season 3: A Prominent Father, The Dark Side of Quinn and More
by Jim Halterman at . Comments
If we're to believe the folks behind and in front of the camera, Scandal Season 3 is going to continue to rock our worlds with surprise twists, turns and revelations that even the actors themselves never saw coming.
I recently chatted with Executive Producer Betsy Beers and Co-Executive Producer/Director Tom Verica - as well as Katie Lowes (Quinn Perkins) - to see what intel I could gather on what we'll see when the show returns October 3. Scroll down for some exclusive, Scandalous scoop!
-------------------------------------------
Where do things start? "It literally takes off minutes after where we left off," Verica told me. "it's a premiere that just goes like a shot." Added Beers: "There are a couple of revelations that are key." FYI: Verica directed the season premiere from a script written by (who else?) series creator Shonda Rhimes.
Liv And Father Still shocked that Joe Morton, who had been appearing on the show mostly in scenes with Scott Foley, was revealed to be Liv's father in the season finale? Me, too! But how much will Daddy Pope figure into things? Verica spoke carefully when he teased: "He figures very prominently mainly because of what happens at the end of that [episode] and his interaction with Liv... I think he's going to be around for awhile."
"The Education of Quinn Perkins" This is what Verica called Quinn being taught by Huck in the art of using a power drill for more than putting together a bookcase. But will she continue down this dark path? "I think it's really interesting territory," he said of her evolution, which will continue. "We were introduced into this world through her eyes and she's now become one of the dysfunctional part of the family and she's now taking this and going further with this. We're going to explore her dark side."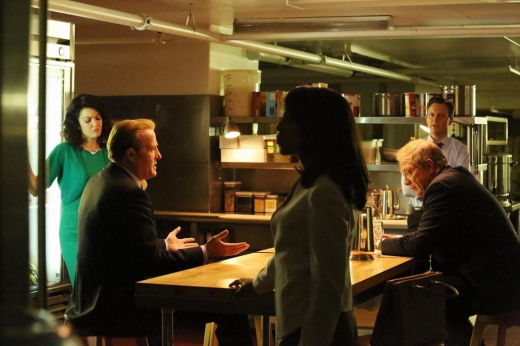 Power or Blood? Speaking of Quinn's reaction of pure joy when literally drilling another human, Lowes said: "I liked that Quinn got off on it because I think she's had a lot of bad things happen in her life and it was the first time she's controlling the situation and she's being good at something and not the newbie and not being made fun of. I'm interesting in doing more of that." Asked if power outweighs the splattering of blood on Quinn's face, Lowes laughed and said: "Power outweighs it! Power outweighs the blood splatter, yes."

More Huckleberry Quinn? "I think Huck and Quinn are incredibly close," said Beers, "and that's one of the most amazingly cool relationships on the show and, from what I know, there's going to continue to be a dynamic there." Asked about a love interest for Quinn, Lowes said, with trepidation, she'd welcome it... but with Quinn's track record, nobody should expect a happy ending: "This is Scandal, after all."

Cyrus and James Sure, Cyrus put a hit out on his journalist hubby, but they worked through it as only two people would on Scandal. "I think they're one of the more happier couples," Beers offered. "These two men got naked and talked and that changed a lot of stuff. I feel like you'll definitely see more of the two of them and, as always, Cyrus has the responsibility, which is to continue to try to be the adult in the situation."

Flashbacks Ahead "People love flashbacks on the show and it's such a mechanism that really works," Verica said. In terms of Olivia and what we'll find out through her relationship with her father? "Just by shear nature of meeting her father, we'll dive into her past." In other words: looks like we may finally really learn what makes Olivia tick.

White House Down? While we're not entirely sure of the state of their relationship, it doesn't sound like we should expect the President and First Lady to be in a good place. Verica said we'll see a lot of them in the season premiere: "Honestly, if you think you've seen everything about their relationship, there is more coming that's new."

Tom Verica, Actor Though he directs more than acts these days, many of you may know Verica from shows like American Dreams and even a classic Seinfeld he said he still hears about (he was a podiatrist who dated Julia Louis-Dreyfus's Elaine), but is he ready for a role on Scandal? "Shonda has told me she's going to write me a really good role so maybe I'll do a role on the show," he told me. "If it's the right part, it would be great and I'd enjoy it."

The Last Scene Verica also teased the final scene of the season premiere is a doozy: "What I love about the show is the risks that [Shonda] takes in storytelling that oftentimes get stretched over 12-14 episodes [but] she does every other episode…I think she has exhibited through her writing the power to be able to turn people's opinions from show to show and bring them back."

Jim Halterman is the West Coast Editor of TV Fanatic and the owner of JimHalterman.com. Follow him on Twitter.

Tags: Exclusives, Scandal, Spoilers