Are you excited to find out what's going to happen between Toby and Nikki on tonight's Switched at Birth Season 2 finale? So are we.
And we were fortunate enough to grab time with Lucas Grabeel on the phone, as the actor o let us know we won't be let left hanging following this evening' installment, at least not as far as the future of Toby and Nikki  is concerned. Scroll down for more from our exclusive Q&A with the star...
-------------------------------------------
Nobody seemed to think Toby and Nikki getting married was a great idea, but were you surprised at the information revealed during the bachelor party?
Uh...yeah. (Laughs) When we read it at the table read everyone was pretty much "oh my goodness, I can't believe that happens!" and all that good stuff. It was a huge shock, ya know. When they told me that was going to happen, I was like, "what, really?" but then the way it was written - I think it was dealt with with the right levels of drama and comedy and craziness. It wasn't too melodramatic. It was so crazy and wild that you could believe that it would happen. So, yeah, it was hilarious to me.
Did you and Sean (Berdy, who plays Emmett) have fun playing the scene at the clinic? The lines you had there were definite comedy.
That's what made it great. The fact that I kind of laid everything out on the table, and brought up everything that I, as a viewer, was thinking. Stuff like , "Oh, well, why don't we just call up Simone and have her walk me down the isle;" those kinds of things. You know, all of that stuff just kind of made it real and not so far fetched in that sense. That I would say thanks to that guy that did all of that to me. But, you know, again, it's such a testament to their relationship that after all of that and all of the craziness, that Toby forgives him and kind of lets go and still asks him to be his best man, so that was a cool moment as well. But, yeah, we had a lot of fun doing improv and a lot of stuff that I don't usually get to do.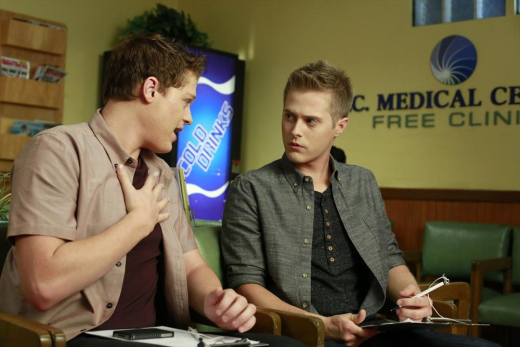 As far as we know, the wedding is still on for tonight. We also saw a conversation take place between Nikki and Toby, but it was silent. Did he tell her about the Chlamydia?

As far as I remember, it ends with him having a conversation about the Chlamydia thing, correct?

Well, we didn't hear anything, just saw them talking, so we don't know for sure. Nikki laughed, and that seemed unlike her, so I was unsure.

Oh! Maybe they took the sound out or maybe they want you to think that we didn't talk about it, but I don't think I'm giving anything away by saying that, yeah, he did tell her what happened that night and that everything was crazy in that sense. They're still good in that right but, all the other issues are still going to surface. The parents are just not happy with the way things are happening and there is this huge burst of emotions when they have this big, impromptu family meeting, that they kind of come clean and say, "we're not happy about this and you're making a big mistake."

That not only puts more pressure on the two of them but raises questions in their own minds. And, you know, when you tell a kid not to do something, they want to run and do the opposite and at the same time, there are still issues we're still battling with. There's the whole religious thing, issues with the music, with me going to college or not going to college, and all the things she's been going through personally with her dad that will keep you guessing until the very end of the episode whether it's going to happen or not.

Is it going to keep us guessing until the next season?

No. I can tell you that. That was my question. I was talking with the writers and they wouldn't tell me one way or the other and I said, "Just tell me it doesn't end right before we say 'I do' and they said, 'No, you'll find out, it will happen one way or the other,'" so that does happen. This season finale actually does have much less of a cliffhanger than the cliffhanger from our previous season finale. It's more like raising a few questions and wondering where this world will go.

Given that you do have another season coming that has been given the green light, how excited are you for what might be in store for Toby in Season 3?

You know, I'm very excited because one thing I've learned from the writers of our show is that you never know where they're going to take us. I never would have guessed that Chlamydia was going to be a part of the show. (Laughs) Personally, I hope that Toby continues to follow his dreams. He has confidence and possibilities when he's on stage and I feel like that's something that can survive out of all the other things.

What has been most satisfying for you about playing Toby?

I love how for the last two and and a half years Toby has been the objective point of view for the whole Switched at Birth situation. Everyone else had much higher stakes with the parenting, the sharing of parenting, finding out that Regina knew early on, and all these other things that the children and the parents have to deal with in the direct relationship of unknowing. He's always been the person who looks at it through the outside, so he thinks he's kind of raised and objective above it all.

But, these last few episodes, we've seen him getting caught up in all of that in his own mess because he's just decided he's going to grow up really fast and become a manager of a car wash and get married and go to college or not go to college and pursue his music career. Now it's all coming down on him and causing him to rethink some things and realize 'maybe I'm not ready to grow up so quickly or maybe I am.' I don't know. It's just totally real for an 18-year-old and I experienced that myself when I was 18 so I relate to that a lot. That's definitely been the most fun I've had with the character so far.

It's shown. It's been fun watching your progression from the smart-aleck brother with a teenage gambling problem to dealing with real issues. It's been a real pleasure to watch. I can't wait to see where Toby ends up in the finale.

Thank you. It's been a blast.

Carissa Pavlica is the managing editor and staff writer for TV Fanatic. Follow her on Twitter and on Google+.

Tags: Exclusives, Interviews, Switched at Birth