Some rules are clear, but frequently there are "Unwritten Rules" on the job. On the Blue Bloods season 4 premiere, Erin had to struggle with both the rules of her job and the ones within her own family.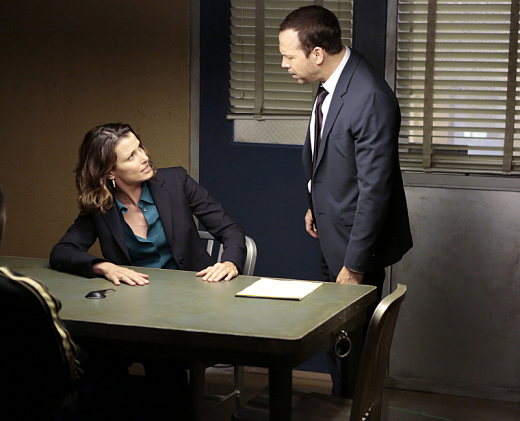 The fact is that Danny got them into this mess. Leading old Mrs. Caruso into identifying Angelo may have given him enough for probable cause to haul the guy in, but it was never going to be enough to convict him. 
Danny handed his sister a weak case, then railed when she told him so and left her to suffer the consequences.
No one had Erin's back. Her boss was more than willing to hang her out to dry, Danny gave her nothing but attitude and her own grandfather inferred that she was being disloyal to her family and cops everywhere. 
Doing the right thing can be a very lonely undertaking. 
In the end her plot to get Angelo to confess was quite a risk. I understood that she needed to make it a sweet enough deal that he'd seriously consider taking it, but so many things could have gone wrong. He could have called in his own attorney at any time and this could have blown up in Erin's face. 
Thankfully that didn't happen and in the end the family came back together to admire funny family vacation photos. But I was still most upset with Henry. Maybe I should expect it by now but Erin was right when she reminded her family that loyalty is a two way street, and there are members of it that don't seem to have Erin's back when it comes to her job.
As usual Frank's reactions were perfect from beginning to end. I liked that Garrett told him the names of the slain officer's husband and child. The department may have lost a fellow officer but Andrew lost his wife and 5 year old Katie lost her mom. That is far worse.
I also appreciated it when Frank asked Jamie to be the one to protect Angelo. As he explained to his son in this Blue Bloods quote…
Jamie: I thought I was just another cop.
Frank: You are. You're also a lawyer and you'll understand the why of this more than most. | permalink
Frank was also spot on in his handling of the Blue Flu and his new deputy. Although Frank likes and respects Dino, there won't be another second chance.
Frank: If you ever withhold vital information from me again, you'll be gone in a heartbeat. | permalink
It doesn't get much clearer than that. 

Finally, Jamie got a new partner. My only issue with Eddie is that she's fresh out of the academy. Aren't rookie officers assigned an experienced training officer during their first few months on the job?

But Eddie and Jamie could be an interesting match. All we know right now is that she's gorgeous, smart, has a rich daddy, and is still figuring out the kind of cop she wants to be. 

All in all it was great to have the Reagan family back once again but I do hope for a more light-hearted, entertaining family dinner next week. 

C. Orlando is a TV Fanatic Staff Writer. Follow her on Twitter.

Tags: Blue Bloods, Reviews