Jim's Notebook: Scoop On The Originals, Sean Saves The World & Brooklyn Nine-Nine!
by Jim Halterman at . Comments
While it's sad that summer is over, the good news is that the Fall TV season is very, very close.
That means there's more about some of your faves in this week's Notebook including Andy Samberg as a cop, Sean Hayes surrounding himself with talented ladies and Phoebe Tonkin on revealing more of her character.
Let's do this!
Brooklyn Nine-Nine: With so many genres out there to choose from for the new Andy Samberg sitcom, what made Mike Schur and Dan Goor (who also created Parks And Recreation) choose the cop genre? 
"When Dan and I first started thinking of ideas for shows," Schur told me on a recent press call, "we started talking about the idea of doing a cop comedy, and we pretty quickly realized that there hadn't been a half hour cop comedy in a while, and that, in this day and age where there is 10 million shows about every genre, every setting, every location that is possibly imaginable by the human brain, that made it seem like kind of an exciting challenge."
The 70s sitcom Barney Miller was an inspiration, they said.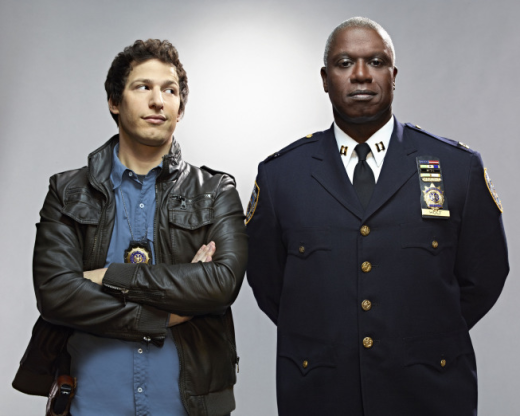 Samberg's reasoning for wanting to be a TV detective may be a tad simpler.
"I definitely was going to get to wear a cool leather jacket, which was appealing," he said. The former SNL cast member added, "I've always enjoyed cop comedies as well as cop dramas as well as cop films and T.V.  I like the procedural aspect of it, and I also really like the workplace aspect of it."
With Goor and Schur's track record with The Office and Parks & Rec, Samberg said that had some appeal, too. "When it comes to work place comedies there is really no one else I would want to work with than these dudes."
Brooklyn Nine-Nine premieres September 17th at 8:30pm on Fox.
Sean Saves The World: Sean Hayes has been busy behind the camera the last few years by Exec Producing shows like Grimm and Hot In Cleveland but he's back front and center this fall in his new NBC sitcom. But, knowing a thing or two about making a TV show, he's surrounded himself with pros like Linda Lavin, who plays his somewhat overbearing mother, and Smash's Megan Hilty as one of his best friends.
Of Lavin, best known for her 70s sitcom Alice, Hayes said, "She is a living legend…a lot of people don't know her extensive success on stage and on Broadway. We've got a lot of theater folks on the show which I think is a huge factor in cultivating a hit sitcom. Sitcoms are multicams [and they] are the closing things related to theater. And so in that sense, we are so fortunate to get Linda onboard."
He added of the Tony-Award winning Lavin, "you could give [her] literally any line to and she would get a huge laugh." And while there are no plans yet to do any musical numbers, don't be surprised if we don't see some singing and dancing on the show in the near future.
You may have seen Hayes guest last season on Smash with Hilty but he actually knew her before that. "She actually auditioned for me when I produced another show for the CW (Eight Days A Week, which didn't move forward) so I knew of her talent."
Hayes also said of Hilty, who released her album, It Happens All The Time, earlier this year, "Of course working with her on Smash was amazing and a wonderful fulfilling opportunity for me. And I knew that she was hilarious. I don't know that America knows that yet because Smash was a drama. So I'm excited that America gets to see Megan be funny and hilarious and a way they've never seen her be before."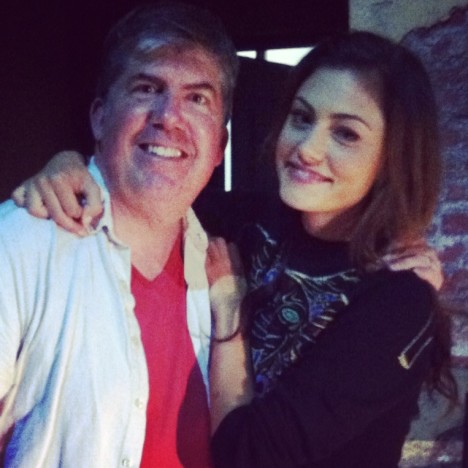 The Originals: Phoebe Tonkin's Haley is one of the characters coming over from The Vampire Diaries for the much-anticipated spin-off but we probably know the least about her outside of the fact that she's come to New Orleans looking for her family. Will we find out more?

"I think what's really exciting now is we have the chance now to really explore Haley's history and her past," Tonkin told me last week on the Atlanta set. "It's really cool that on this show I have a really rich understanding of where Haley came from. In a lot of film and television shows you don't know that much beyond what's written on the page but Julie [Plec, creator] has been really open about sharing Haley's past."

Tonkin said we'll find out about Haley's childhood, which will explain much of who she is today, and Haley's pregnancy by Klaus (Joseph Morgan) could change her for the better:

"Haley has gone through a lot, acting quite selfishly because she's never felt like there was anything else besides her at stake. She never had brothers and sisters or family that she had to think about, she was just thinking about herself and she was almost on a kamikaze mission in life because if something happened to her, it was just her. Whereas now she's looking after an infant as well so she has to think about other people besides herself."

Tonkin hopes that Haley is a good Mom but time will tell what Plec and her writers have in store for her. 

The Originals premieres October 3rd on the CW right after The Vampire Diaries.

That's a wrap for this week! Anything else you're dying to know about your favorite show or one of the new fall offerings? Leave a comment here or you email me directly at jim@jimhalterman.com.

And remember: follow @TVFanatic for all your TV scoop!

Jim Halterman is the West Coast Editor of TV Fanatic and the owner of JimHalterman.com. Follow him on Twitter.

Tags: Jim's Notebook, The Originals, Brooklyn Nine-Nine