Marisa Ramirez Teases Blue Bloods Season 4, Gushes Over Donnie Wahlberg's Boy Band Moves
by Jim Halterman at . Comments
When we last talked with Marisa Ramirez, she was just starting an arc as Donnie Wahlberg's new partner on the CBS hit crime drama, Blue Bloods.
What a different a few months make!
Ramirez clicked so well with Wahlberg's Danny Reagan that she's been promoted to series regular and, starting tonight when Blue Bloods Season 4 kicks off, we'll see her catching bad guys every week.
I jumped on the phone with Ramirez last week to chat about the new season, when we might learn more about her Maria Baez and if she's geeked out at all since Wahlberg is also still performing with boy band New Kids On The Block.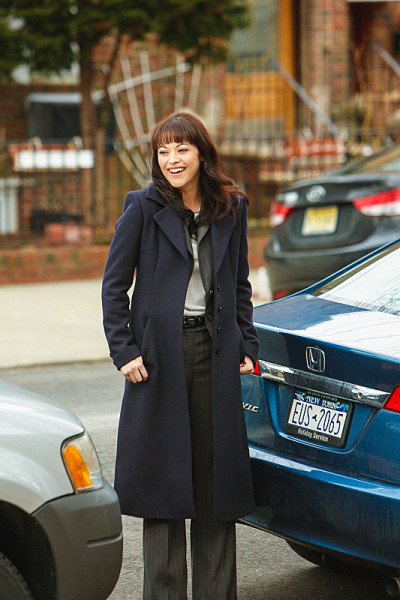 TV Fanatic: Is it safe to say maybe we've got a little more insight into who Maria is in the new season?

Marisa Ramirez: Not yet but I heard there's stuff coming that I don't really know what it is and I'm not one to ask a bunch of questions but I've heard that some good stuff is coming for me. So, I'm excited about that!

TVF: Danny and Maria, you said before they're kind of brother/sister, is that the same dynamic between the two of them or are they butting heads at all? How is the relationship with them this season?

MR: Not at all. They're just getting along like great partners, just really working as a team, and having fun together and just going off of each other's personalities, but it's fun solving cases together and stuff and there's definitely a lot of teamwork and they haven't been butting heads at all. Who knows, maybe that's coming too. I don't know.

TVF: What's it been like working with Donnie Wahlberg especially now that you're a series regular and are spending a lot of time with him?

MR: It's so much fun. He just has this kind of youthful energy about him and he makes everything just so much fun, and long days don't feel long when we're working together, because everything is just happy and fun and no drama. He loves to make the crew laugh and tell jokes and do silly, boyish things. I just love working with him, really. I couldn't think of another person in the industry I'd rather be working with.

TVF: Does it ever dawn on you, like, 'this guy was a teen idol at one time, dancing around and singing.'

MR: I've gone to see him and the band twice. I went to Staples Center and then I drove down to Atlantic City when he was out here. I think it dawned on me there, like, 'Oh my God, I'm working with this guy every day. Now he's a detective, but he's standing up there and his shirt is off and he's shaking his ass for all of these chicks who are just screaming their heads off, but I actually get to work with him every day. Hang on a minute, is this real?' Yeah, but he's so much fun, and all the guys in the group are just so nice, and it's such a cool thing and such a neat experience.

TVF: Tell me about shooting in New York City. In the season premiere, you did a scene in Grand Central, which is pretty cool!

MR: Oh my God, that was so cool. That was only my second time in there ever. I think the first time I went, it's so crowded and there's so many people, and they're just going to get on their train or wherever the hell they're going, so you try to keep up with the flow and just walk through, but this time, we actually were in there for hours. I got a chance to look up at the ceiling and just look around and just take in all the energy of the place. There's so much history. It was just so beautiful, and then I saw in the episode, it really translated just beautifully on camera. Yeah, shooting in New York City is kind of crazy and it's definitely surreal.

It's very different than L.A. In L.A, nobody cares. Here, I don't know if they're tourists, I don't know if they're huge Donnie Wahlberg fans but there's all these people just stopping and watching and taking pictures, wanting to talk to on the street, and it's a big production. Last  night, we tried to shut down a sidewalk, and it was crowded. There were so many people. You can't really shut anything down in New York City.

TVF: Have you gotten to know Tom Selleck a little better? Last time you said you got giddy around him.

MR: Yeah. Still, I don't work with him so I rarely see him. Sometimes he'll do the family dinner thing in the morning and I'll have a scene later in the evening so it's just in passing, like, 'Hey, how are you?' and he's leaving and I'm getting there or something like that, but he's been really sweet and nice, and just very warm when I do see him. So, I feel a lot more comfortable being a part of the cast and the family and stuff.

TVF: When you get invited to the family dinner, I think that'll be a big deal.

MR: Oh, I don't know if that'll ever happen, but maybe I can knock on the door and deliver some doughnuts or something, I don't know.

TVF: Did you have any say in Maria's look or even her hair?

MR: When we first started back in February, again, I thought it was just going to be one episode, so wardrobe had their idea of what I was going to wear, and Donnie's always wearing a suit and tie, so they said, 'Well, you're a classier detective so you're not going to be in jeans and a leather jacket sort of thing. You're a grown-up so we're going to have you in suits all the time.' Okay, fine, and it just went from there.

So, as far as me having a say in things, I don't really like to overstep my boundaries. The wardrobe department has their job and that's their vision, and if I completely hate something, like a color or something, then I'll speak up but I feel pretty comfortable in everything that they put me in and I think my look is just very detective-like, and hopefully we'll get to do some undercover fun stuff.

Blue Bloods kicks off Season 4 tonight at 10 p.m. on CBS.

Jim Halterman is the West Coast Editor of TV Fanatic and the owner of JimHalterman.com. Follow him on Twitter.

Tags: Blue Bloods, Interviews, Exclusives, Spoilers