Mistresses Exclusive: Alyssa Milano on the Baby Daddy Reveal, An Action-Packed Finale and More
by Christine Orlando at . Comments
As tonight's season finale of Mistresses ("I Choose You") looms near, fans are clamoring to find out the identity of the father of Savi's unborn child.
Thankfully, Alyssa Milano - who plays Savannah "Savi" Davis - took to time to chat about why she chose Mistresses, whether or not we'll find out what's in the envelope and what she knows about a possible Mistresses season 2. Read on for excerpts from our exclusive Q&A...
-------------------------------------------
I'll admit that when I first heard the premise for Mistresses, I wasn't sure what to think, but it has turned out to be a really fun ride. What first attracted you to the show?
I loved the writing of the "Pilot" episode. I loved how flawed the character (Savi) was. I loved how she was this woman who seemingly had everything together. She was so driven in her career, so successful and yet her life was unravelling. I thought that was really relatable. I also loved that fact that it was an ensemble cast.

For the past several weeks, this show has had me yelling, What's in the envelope? at my TV. Can you confirm that we finally find out who the daddy is in the finale?
You will finally find out who the daddy is in the finale. Yes.
Regardless of who the daddy is, which man do you think Savi should choose?
I don't know. I think that the writers have done such a great job with giving both of the men enough good reasons and bad reasons for Savi to be with them. It's a tough decision. Obviously the information in that envelope will, I think be pivotal in whatever decision she makes.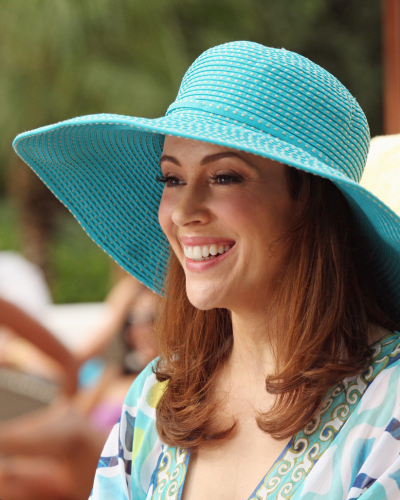 Taking Savi out of the mix, who do you think has had the best story line on the show: Joss, April, or Karen?
I think that April's story line is pretty outstanding. It's hard to beat the dead husband coming back to life.

I've got my fingers crossed. Is there any news on Mistresses getting a season 2?
No news as of right now. Our contracts were extended until September 30th. So we're just all waiting and crossing our fingers and toes and legs and all parts of our bodies that we get a pick up.

You've played so many roles over the years, have you had a favorite?
I don't know. I think that I've loved doing the sort of mish mosh of my career and how I've been blessed to be given the opportunity to do comedy and drama. I think Charmed has been my favorite thus far. Just because it was such a huge part of my life. Pretty much all of my 20s and part of my 30s. And it was fun. We had fun every day. We had wigs and crazy wardrobe and demons and fun green screen stuff. It was a really fun job.

I also cover Castle here at TVFanatic and I have to say that Kyra Blaine was a big hit with Castle fans. Would you ever consider coming back for a second guest appearance?
Of course. Yeah, I've said that all along. I'd love to come back to Castle. I love Nathan Fillion

Anything we should be prepared for on the Mistresses season 1 finale?
It's very, very, action packed.

C. Orlando is a TV Fanatic Staff Writer. Follow her on Twitter.

Tags: Exclusives, Interviews, Mistresses, Alyssa Milano