Nashville Creator Teases Season 2, "New Configuration" for Rayna and Company
by Jim Halterman at . Comments
We're a week away from the Nashville Season 2 premiere, meaning we'll soon  find out the answers to various cliffhanging questions:
How will the car accident affect Rayna and Deacon? Will Scarlett give Gunnar the answer he (and we) want to his wedding proposal? Is Will coming out of the closet anytime soon? And after making about every misstep possible last season, will Juliette find some happiness?
Who better to ask than series creator Callie Khouri, who recently gave me some insight into these topics and more, including the Nashville music - now that T. Bone Burnett (Khouri's husband) has left the series - and just how the residents of the real the real-life city feel about Hollywood invading their space...
-------------------------------------------
TV Fanatic: Having gone through season one, how did you approach season two thinking about what maybe worked great last year and what didn't? How did you shape it?
Callie Khouri: Well, we picked up all the cards off the table at the end of the year last year and threw them up in the air, which was really fun. We answered one question and created whole other new ones. We have a lot of good things to do this year. Rayna's divorced now. Maddie knows that Deacon is her biological father. There is just a whole bunch of stuff going on.
Juliette just kind of lost everything in a way. Certainly her relationship with her mother, which was complicated, and ended about as badly as it possibly could have. Her heart was completely broken and then Rayna was on tour where it ends up in a horrifying car crash.
We just kind of picked up with everybody where we left off and we spend the first part of the season watching them put their lives back together in this new configuration.
TVF: Juliette did go through a lot last year. Will we see a more grown up Juliette in the season two?
CK: Yeah, I think so. I think certainly she is going to snap inside...also I think she really resolved in a lot of ways that she's not going to ever let herself…you know, that's why they ended the season with the song 'Nothing In This World Is Ever Gonna Break My Heart Again.' She is not into being hurt anymore.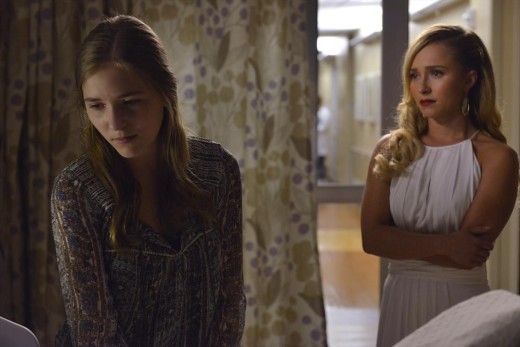 TVF: Let's talk about Rayna and Deacon a little bit. Of course, they're going to survive the accident but will the accident have its repercussions because I also know we're going to see some flashbacks in the season premiere?
CK: Right. I think, obviously, they ended up in a place that was about as bad as could end up. How could it get worse? We started them in a place where we could really have hope that it will somehow workout...I don't think we took away any of those feelings that they have for each other. I think we put them at an even tougher place then they were when we started this season. I think now there's this reality of the fact that them coming together does not seem to work out. You know, it doesn't happen easily for them.
TVF: Will we be surprised what we see in the flashbacks?
CK: I think so. I think you'll see moments that you didn't think you would see.
TVF: What will we see with Deacon throughout the season? Is he going to be trying to forge a relationship with Maddie?
CK: Well, I think he's got a lot to wrap his head around. One is the fact that Rayna chose not to tell him for 13 years. Not an easy pill to swallow. Two, the fact that she didn't tell him for 13 years, there was some reason for that. It wasn't just purely selfish on her part. We'll some of why she made that choice and, whether or not she thinks that was right or not, we'll certainly see that there were valid reasons for making that choice.
TVF: How does Teddy fold into all this because I know he and Rayna are split apart? Is he still very involved with that story or is he going to start some of his own stories?
CK: Yes, he's very involved with that story and he's going to start one of his own too. He is committed to fatherhood for both of those girls and he will not relinquish an inch of ground.
TVF: Are we seeing Kimberly [Williams-Paisley, who plays Peggy] again in the new season?
CK: Yes.
TVF: Let's talk about our youngins, Gunnar and Scarlett. Without really spoiling what happens with the proposal, let me ask will they have a tougher time this season professionally or personally?
CK: I think they both have a lot of struggles ahead of them this year. It's interesting because Scarlett's career kind of started to happen even though it's not something she really ever pursued, you know? It wasn't something that she went after. She didn't move to Nashville thinking 'want to be a big star, I want to be a famous songwriter.' None of that was something that she pursued.
However, it's like once that genie was out of the bottle, things just started to happen on their own and a lot of them happened without Gunnar. While he was working through his grief about his brother and all of that, things continue to roll forward for her and that's a tough thing. She wouldn't have been doing any of it without him. Yet here she is with a record deal. And he doesn't.
TVF: Will was definitely a character I loved when you brought him in late in the season last year. When did you know that you wanted Will to stick around because Chris [Carmack] is now a series regular?
CK: It's a really interesting thing for me because to me that is part of the most compelling of all the stories that we've come up with is the person who wants what they want and yet they're in a world that seemingly rejects that whole notion on the face of it. Country music is not a place where gay artists seem to thrive, you know. I mean, they are there and they're certainly incredible songwriters like Mary Gauthier and people like that who do very well but they're not huge country music stars. They're very well respected artists.
There are certainly plenty of gay people in Nashville and whether or not they really reach the hype that they would were that not an issue, that remains to be seen. There are only a couple of artists who have come out as gay and it doesn't really seem like it's pushed them to the top of the charts. But maybe not...it's really an intriguing story for us.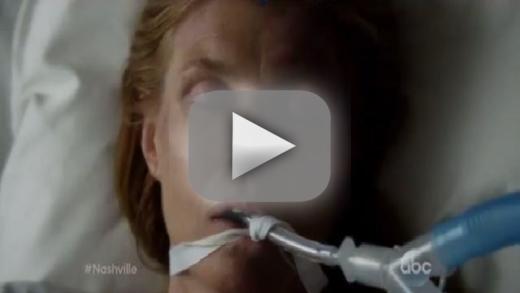 TVF: I talked to Chris a couple of months ago and he just teased that we did see a man in the finale that's going to play an important part in what we see this season. Is that going to be more of a slow burn kind of story or is it something that's going to accelerate in these first couple episodes back?
CK: I think that's going to be more of a slow burn.

TVF: Let's talk music a little bit. I know T-Bone is not involved with season two, so will we notice a difference?
CK: No. It was always kind of the plan that T-Bone was only going to do the first season. He's off doing ten other projects [and] we never imagined that we would be able to entice him to stay for a second season in the best of circumstances. Buddy [Miller] is there and he's someone that we absolutely love working with and he totally is true to the aesthetic of what we tried to set up the first year. Buddy produced the very first song in the pilot that Scarlett and Gunnar did. Certainly it was not any kind of a huge stretch for him to take on more of the responsibility which is what all that really happened. He and T-Bone had kind of been divvying up the work all season.

TVF: How did the city of Nashville respond to the show?
CK: They have responded as graciously and as warmly as you could possibly hope. I have to say our cast and our crew reciprocally love Nashville. It's a real love fest there. I'm sure that there are people starting to go 'Oh God' at just the traffic that's caused sometimes when we're out shooting on location. It's very inconvenient for people and stuff like that.

I think that the fact that we try to stay so true to what goes on there and we try to do it in a very respectful way because there's a great deal of love I have for that city. I think they're appreciative of that. I think Nashville has seen its share of not so flattering portraits of itself and is really happy that that is not what we're interested in doing at all.

Jim Halterman is the West Coast Editor of TV Fanatic and the owner of JimHalterman.com. Follow him on Twitter.

Tags: Exclusives, Interviews, Spoilers, Nashville