I've begun to feel that every crime procedural on TV must eventually do an homage to the Alfred Hitchcock thriller Strangers On a Train.
For Rizzoli & Isles, "Partners in Crime" was that episode.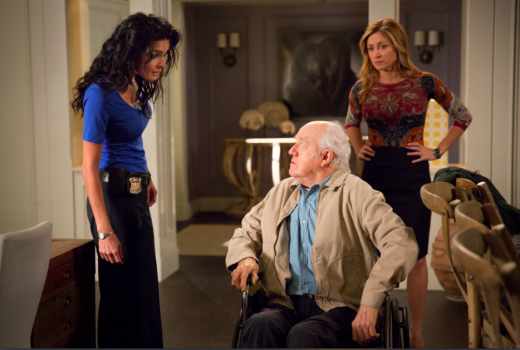 As a Hitchcock fan, I'm not complaining. But I just wish it hadn't been so obvious. I actually called it when the victims' family members passed one another getting off the elevator. That fact that the detectives were trying to solve two separate murders seemed like a giveaway. That almost never happens on this show. 
They've also had quite a canine theme going Rizzoli & Isles Season 4. Being a dog lover, I've found Korsak's knowledge of doggie facts, like the temperament of German Shepherds or that Labradoodles don't have dander, to be just adorable.
But it was the personal aspects of the show that were much more intriguing.
Paddy Doyle's father, the man who wanted Hope gone and believed Maura should have never been born, was getting out of prison on parole after 30 years. How cold Maura possibly say no to taking in the lovable old gangster?
Maura: Paddy says he won't last much longer in prison.
Jane: Is it bad form to say Yay!? | permalink
I was with Jane on this one. That was until Casey brought an entirely different perspective. 

Paddy Sr. was an institutionalized old man who was terrified of living outside of prison walls. That certainly wasn't an excuse for how poorly he treated his doting granddaughter but it was another side to the story. Still, I loved that Jane got in the old man's face every chance she could. 

Speaking of Casey, it was great to see him once again. I do love him and Jane together and despite what happens in the book series, I hope these two have a chance at a future.

But Jane's worried she'll lose some part of herself if she commits to Casey and Casey's been promoted to Colonel and must decide if his future is with the Army.

My biggest problem with the episode was that we never saw Jane and Casey's conversation about getting married. Did he propose? Was there a conversation about what they wanted from one another and their futures? How could they not show the audience such a vitally important moment for these characters?

Am I the only one who felt cheated about the lack of actual wedding talk? Do you have any interest in Paddy Sr. returning...or hope or any of Maura's biological family? And how will you spendl the time between now and the winter season of Rizzoli & Isles?

C. Orlando is a TV Fanatic Staff Writer. Follow her on Twitter.

Tags: Rizzoli & Isles, Reviews