The Carrie Diaries Q&A: Brendan Dooling on Walt's Love Life, The High School Closet
by Jim Halterman at . Updated at . Comments
Remember in The Carrie Diaries Season 1 finale?
When our favorite gay teen, Walt was told by his crush Bennet that they couldn't take things beyond friendship until Walt turned 18? Well... guess who's turning 18!
The prequel to Sex and the City returned last Friday, but it's tonight's episode - appropriately titled "Express Yourself" - that features Walt's birthday arrives and his chance to tell Bennet that he's ready to take things to the next level.
I was on the New York set of The Carrie Diaries recently and sat down with Brendan Dooling, who filled me in on what's to come for Walt and whether love is truly in the cards.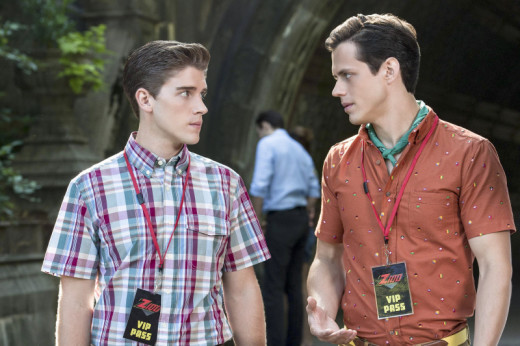 TV Fanatic: What can you tell me about Walt's journey in the second season?

Brendan Dooling: Well, it starts off in the city, which I know a lot of people were excited about. I was excited about just to get a change of environment, not just Castlebury, now we're really living in both worlds, both Carrie and Walt. And because he's in the city he's gotten to spend a lot more time with Bennett, and definitely things certainly develop. It's a rollercoaster ride to keep it interesting.

TVF:  Will we see Walt more comfortable in his own shoes now, or is that still a process?

BD: It's definitely a process. You'll be able to tell that he's much more comfortable now that he's just with Carrie in the city where he's allowed to be a little bit more of himself, and then when he goes back to Castlebury he's shutting down again, but certainly more at ease.

TVF:  I know Stanford (White Collar's Willie Garson in the SATC series) is mentioned in the finale, but do we meet him anytime soon?

BD: We will. We did do the name drop and then actually we have not heard about Stanford yet because I think Samantha needs her due and then Stanford will come down the line.

TVF:  What's Walt's interaction with Samantha in these first episodes?

BD: You know she comes in as this whirlwind, Samantha, drops herself in and she's more Carrie's friend and Walt is Carrie's friend as well. They have a nice rapport [but] they're not chummy right off the bat but everybody spends time together and we really enjoy each other. And it's, you know, sort of becoming another core group in the city as opposed to Castlebury.

TVF: But maybe it will take some time for everybody to gel and get along?

BD: I mean yeah, Walt is so in love with Interview, and really into Bennet and then there are waves between Samantha and Larissa. Does Bennett like her? Everybody has their own opinion so you're just trying to live within it and keep your opinion to yourself that way you don't spark anything.

TVF: What's the Walt/Larissa dynamic like because this is probably the most they've spent time together, right?

BD: It certainly is. Walt is staying with Carrie at Larissa's apartment. She finally comes back, and he doesn't want to overstep boundaries. He's still pretty meek around her because she's so fabulous, and he loves everything that she does with Interview, so he just like mainly wants to just give her, her respect and they're not chummy that much either. It's more of a, what's the word, it's like almost teacher/student.

TVF:  Is Walt working anywhere in the summer?

BD: He has a bike messenger job in the summer. Just to get by with living expenses in the city, which were not as expensive back then but still expensive for a little suburban kid who doesn't have anything else going on.

TVF:  How was it for you, just as an actor, to be in the middle of the city since I know you actually get out there and shoot in New York City.

BD: I love it. I never really, when I thought about coming to the city and starting an acting career I never really thought about shooting in the city. And it's really been a fantastic experience because I've always loved the hustle and bustle and now to be working within it, and working around it, and trying to make things happen, I mean that's my favorite part

TVF:  Once we return to Castlebury, will we see Walt and his family at all?

BD: That'll definitely come down the line. First, all he has to do is tackle school [and] just keep his secret. You see he did come out at the end of the first season, but only to his group. It's not public knowledge, and he doesn't want it to be public knowledge. So it's just a matter of, you know, staying under the radar.

TVF: Will we see more of Walt interacting with Sebastian because they had the start of a nice friendship last season.

BD: Yeah. They do. And it even grows stronger. They have a nice understanding of each other. Sebastian really gets Walt and just let's Walt be, which is really nice and Walt is obviously appreciative of that, and from that a nice friendship is born.

TVF:  Does Walt help Sebastian out because I know Sebastian has this older woman cougar story coming up?

BD: Sebastian is so mysterious. That's what everybody loves about him. He has his own life that he can separate himself from high school, and from family, and everybody, and I think Walt admires that about him, but you know doesn't try to interfere at all either. He just sort of lets it be, just like Sebastian does vice versa.

TVF:  And I remember talking to you last season and you always hopeful the second season would come because I know there definitely was that time where it was just the waiting period.

BD: Absolutely. Just because one season is never enough, right? At least for the avid followers one season is never enough but also you don't really get to see any real development over one season. It's sort of lives under its own dome and then once you branch out, you get a season two, that's when you have necessary tangents and you get to see more characters other than just Carrie because it is just The Carrie Diaries. Yeah, I always wanted season two.

TVF:  What are your hopes for season two as far as the fans that have stuck through season one because it sounds like the show is going to evolve a little bit, maybe a little more grown-up.

BD: Well, I want everybody to love Samantha. That's first and foremost because she is, you know, the other Sex in the City character that we see, and Lindsey Gort is fantastic, and I just really want everybody to fall in love with her because if everybody loves Samantha everything else is going to work. You know what I mean? Lindsey's got a lot on her shoulders and I commend her.

The Carrie Diaries Season 2 airs Fridays at 8 p.m. on The CW.

Jim Halterman is the West Coast Editor of TV Fanatic and the owner of JimHalterman.com. Follow him on Twitter.

Tags: The Carrie Diaries, Spoilers, Interviews, Exclusives, Set Visits