Phil Robertson has been placed on indefinite leave by A&E after making anti-gay comments in a recent interview with GQ.
In a profile of the reality TV star, the 67-year old told the magazine:
"It seems to me, a vagina would be more desirable than a man's anus. That's just me. I'm just thinking: There's more there! She's got more to offer...
"But hey, sin: It's not logical, my man. It's just not logical… Start with homosexual behavior and just morph out from there. Bestiality, sleeping around with this woman and that woman and that woman and those men."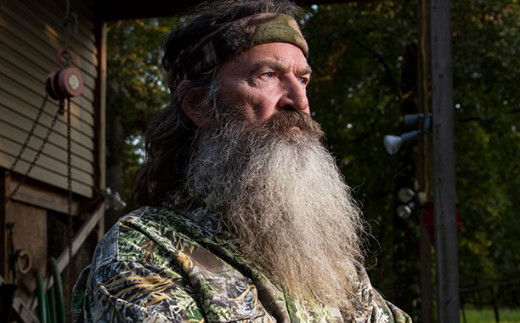 In suspending Phil Robertson - whose top-rated series returns with new episodes on January 15 - A&E said in a statement:

"We are extremely disappointed to have read Phil Robertson's comments in GQ, which are based on his own personal beliefs and are not reflected in the series Duck Dynasty.

"His personal views in no way reflect those of A+E Networks, who have always been strong supporters and champions of the LGBT community. The network has placed Phil under hiatus from filming indefinitely."

You can watch Duck Dynasty online at TV Fanatic and you can sound off below: Should Robertson have been suspended for these comments?

Matt Richenthal is the Editor in Chief of TV Fanatic. Follow him on Twitter and on Google+.

Tags: Duck Dynasty