Doesn't anyone in Salem know how to shut the blinds…or considering it's the Horton cabin there are probably curtains.  I suppose the bigger problem is that Abigail and EJ can't keep their hands off of one another. Not that either of them had those intentions. Oh no. I'm sure meeting at the Horton cabin on Smith Island was truly the only place Abby could think of that they wouldn't be seen. 
That it was the last place the two hit the sheets was merely a coincidence…not!
Let's face it, from the whoa is me, I'm such an idiot, who would want me? rant she was putting on to her admitting that she couldn't stop thinking about him, there was little doubt what Abby's intentions were, conscious or not. 
And EJ certainly didn't appear to be complaining. As a matter of fact instead of telling Abby they should meet somewhere else, he sent a fake text about Chad just to cover his tracks. 
Yeah, this one-night (er…afternoon) stand just became a full fledged affair because I certainly don't think it's going to stop here. And who do you think is filming EJ and Abby's sexcapades?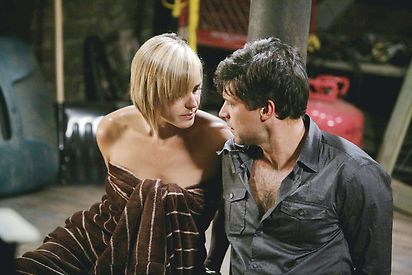 Eric and Nicole…Perhaps Nicole shouldn't have mentioned DNA evidence. Although I had to laugh when Dr. Chyka told her, "The Salem PD forensics department is no match for me." 

The Salem PD is no match for anyone. It's a wonder they were able to arrest JJ Deveraux given their track record. But more on him in a bit…

With gas filling the room and Nicole in tears, Eric finally tells her the truth. Despite his vocation, his feelings are stronger than friendship. He's in love with her.

The kiss to her forehead was the Days aww worthy moment of the week.

Will and Sonny… Sonny got down on one knee and proposed to Will. What should have been a romantic, wonderful moment left me going…eh.  Not that Sonny's proposal wasn't perfect. (When isn't Sonny perfect?) But between Nick's demise and the Will recast which will take time to get used to, the whole thing fell short.

Not to mention that Will said, "Wow…no." Leaving me wondering what the heck was the point.

JJ and Teresa… At least JJ got in one good shot when he compared Teresa vs. Nicole to Bambi vs. Godzilla. Yeah, Nicole could crush her and wouldn't that be fun to watch.

But whatever JJ's big revelation was as he looked at Abby's work folder, I can only imagine that his plan will blow up in his face. Don't they all?

So Days fans, it's your turn. What was your favorite moment of the week…

And be sure to check back tomorrow for our first Days of Our Lives round table!

C. Orlando is a TV Fanatic Staff Writer. Follow her on Twitter.

Tags: Days of Our Lives
Want more Days of Our Lives?
Sign up for our daily newsletter and receive the latest tv news delivered to your inbox for free!
More From TV Fanatic
A familiar face returns to Salem. Check out these photo from Days of Our Lives starting the week of 7/28/2014.
Our Days of Our Lives round table teams up with MyHourglass to debate if Will took his tirade against Sami too far and whether Abigail has suffered enough after this week's Days of Our Lives.
Will turned on his mother as EJ's hopes of reconcilation crumbled. Theresa faced Victor's wrath and Danile, Hope, and Eric planned trips out of Salem. Check out our recap of this week's Days of Our Lives.
Jennifer gets a shock, Eric asks a favor, and Brady struggles with a life and death decision. Check out these photos for Days of Our Lives from the week of 7/21/2014.
---