In this installment of Hart of Dixie, we are taken through the so-called world of Cabaret as Shelby continues to "ruin" Brick's life.
And, in an attempt to get her out of his, Brick recruits Zoe to be Shelby's new director.
Finally, in Hart of Dixie Season 3 Episode 10, Brick gives into his feelings for Shelby while Wade tries to figure out why Vivian isn't having such a great time with him.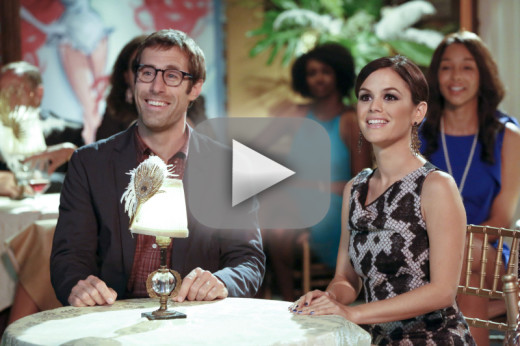 Let me tell you, the one thing that I love the most about Dixie is at the end of each episode you're left with a stupid smile on your face. I feel little stressed out watching all others show.

Hart of Dixie is all about its lightness and comedy. You also get those awww-inspiring moments when one of our favorite characters finally finds love or love is rekindled.

In this case, it was George and Tansy.

We all can rejoice now that Lynly will soon be gone. Finally, someone in Bluebell said aloud what we've all been saying since day one: Lynly has crazy eyes. Truer words have never been spoken. Thank you, Tansy!

Elsewhere, Joel was his adorable self, trying to help Zoe from ruining the cabaret, even though she thought he was jealous. I really love Joel.

You know who else I love? Vivian. I even love Vivian with Wade. I know this probably revoked my shipper card but you know what? I'm all about a character's journey.

Vivian is a part of Wade's and a part of Zoe's and she'll eventually play a huge role in Zade. At least, that is my speculation for the remaining episodes of Hart of Dixie Season 3.

I also believe that Annabeth doesn't gets enough credit. Every single episode she brings the comedy and is the backbone for Lavon. There is nothing about her that I don't adore. She's funny, loyal, but most importantly she is her own person. Annabeth doesn't need Lavon nor Lemon to define her character or to make her stand out. 

Overall, I liked episode because Shelby and Brick are finally back together and because there is a light at the end of the tunnel with Lynly.

Each week with Dixie is another hour of TV that is worth watching because it's fun and when the hour is over you're happy and ready for next week with a sense of anticipation.

Who was your favorite pairing from the episode?

Tags: Hart of Dixie, Reviews