It's the first episode of the new year and already we're faced with small time tricks and games to get ahead.
Yes, things have really been invigorated in The Good Wife Season 5, but it's not always pleasant to watch.
On The Good Wife Season 5 Episode 11, we had Will taking a case simply because it gave him a chance to go up against Alicia - AGAIN - and then he used every dirty tactic he knew to throw her off of her game. He must know he can't win against her.
Because she was so tussled, she changed midday into the outfit she was in when he banged her the first time to volley the confusion back his way.
To titillate everyone tuning in for a dose of Will and Alicia lovin', the former couldn't even keep his mouth open while he attempted to question his witness because he was thrown back to the time he was removing that suit from Alicia's lovely frame.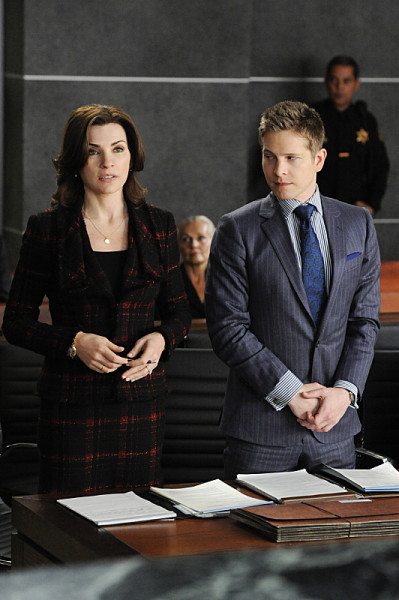 But it wasn't all about low blows between Will and Alicia. As Will's plans to grow Lockhart/Gardner (even he can't call the firm by it's new name, LG) at leaps and bounds, he's using mob attorney and general jackass Damian Boyle to threaten partners into voting with Will and against Diane -- because that's what things have come to -- Will versus Diane.
It's lovely that everyone is enjoying the new energy, but what I'm missing are the personal relationships. They are virtually missing. If it weren't for the animosity, there would hardly be any interaction at all. Diane is getting more disengaged every week, and if her final words with Will weren't foreboding I'll be surprised. It's not like her to do whatever he wants, and I don't think she'll keep it up for long. 
She had barely a moment to let him know that they have come to a psychological breaking point not just in the firm, but with their partnership. They are not who or what they once were and she's concerned. His answer was for her to support him. For Will, it's always about Will. He's lost focus of anything or anybody that doesn't immediately answer his commands and that's not a good place to be.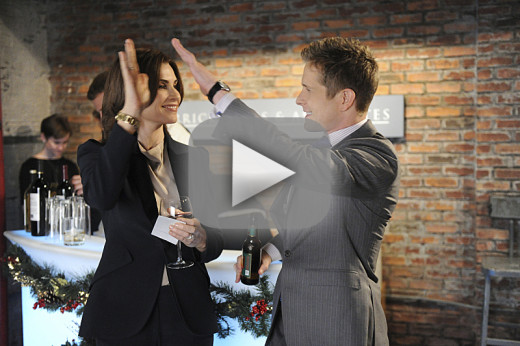 Cary had a great moment with Alicia where he told her not to let Will get the best of her, and from his strong words she took away from it to tempt Will sexually. She didn't get pumped to prove that she was a better attorney, or to find a fantastic angle to win the case, but to send him into a sexual frenzy. It's disappointing.
Can we believe that Marilyn's baby daddy is really Peter Bogdanovich? Other than the fact that is was one of the most ridiculous cameos in history, her stories don't add up. He was in town doing a film that week. But when Kalinda was asking about whether her baby daddy would be in her life, she said she saw him every day. Does Bogdanovich live in Chicago? 
Another disappointment with the Damian Boyle line is what it did to Kalinda. She is tough as nails, but she can fall for people as she did Jenna. She likes to think that her rough exterior makes it impossible to ruffle her feathers, but there aren't many people who wouldn't be bothered by someone like Boyle.
Matthew Lillard's guest spot was incredibly enjoyable, and the catchy tune Rowby sang was fun. I was thankful for the break from all nasty behavior that we got with his one-liners. They were undoubtedly the highlight of the hour for me. I'm well aware I'm in the minority.
The hour ended with the video about the election boxes. That's already been addressed in some capacity in The Good Wife Season 4 Episode 22, so it's not a surprise that it's coming back again. If one box was in question, the odds are pretty good there was foul play with others. Whether Peter was behind it? I honestly doubt it. I don't think he's keen on going back to prison. That won't stop the drama from playing out, however.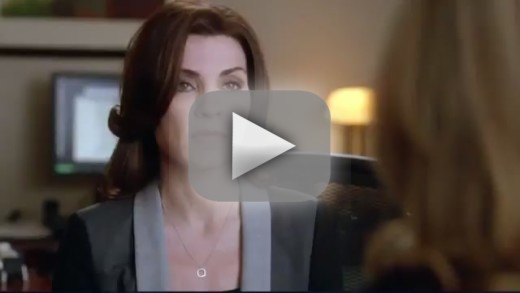 Bless Eli for not having had a stroke for putting up with all the garbage that comes from being Peter's Chief of Staff. If he's not dealing with Jackie Florrick, tracking down Marilyn's baby daddy or discovering who stole a gift to the Governor on Craig's list, he's dealing with real issues like the supreme court nominee and now this business with election fraud. He needs another visit from Natalie Flores and for things to go right for a change!

There isn't a question that the acting on The Good Wife is top notch. The building blocks are all here. My belief is that the series is above cheap shots, childish behavior and who's the daddy storylines. There is a lot of drama that can be mined from these incredible characters, their history and their damn smart legal tactics. Let's have more Boston Legal and less Ally McBeal.

Before you hit the comments to have your say about what's gone down, let me know your thoughts on this question. I'll tell you my hope -- NO. What's your answer?

Do you think Diane will stay with Lockhart/Gardner?

Carissa Pavlica is the managing editor and staff writer for TV Fanatic. Follow her on Twitter and on Google+.

Tags: The Good Wife, Reviews