The Real Housewives of Beverly Hills Review: Former Friends & Frenemies
by Christine Orlando at . Updated at .
Carlton Gebbia "Turning Down the Crown" that Kyle Richards offered was least of the problems on The Real Housewives of Beverly Hills Season 4 Episode 16, as all eyes turned on Lisa Vanderpump.
We recap the tears and fears in our TV Fanatic +/- review...
What is it about Lisa that has everyone turning on her? Yes, she's pushy and meddles in every else's business but that's nothing new. But suddenly Lisa's edginess and attitude are rubbing people the wrong way.
Are they overreacting or is it just a long time coming?
But tonight's drama started with the feud between Carlton and Kyle. 
I'll admit that the odd words going across Kyle's computer screen were weird but it's either one of two things. It's a hoax made up to get attention or someone with a grudge hacked into her system.
Either way, I don't thing there's anything mystical about it. More like a techie with an ax to grind. Minus 22.
Despite the drama, most everyone heads to Yolanda's going away party for daughter Gigi. 
Plus 27 to David for loving Yolanda even in her funky sneakers. They may have looked silly but these two are just too darn cute. 
Plus 50 because I don't think the Housewives have ever gotten me teary eyed the way that Gigi and Yolanda's speeches did. Kudos to Yolanda, Mohammed and David because Gigi seems to be the most level headed of any of the Housewives kids I've seen. 
But the party turns silly when Carlton sits on her husband's lap rather than take the seat next to Kyle. Minus 18. It's time to grown up ladies. 
Yolanda and Carlton are in search of cleansing candles in this scene. Hey, whatever works!
View As List
1.
Cleansing Candle Shopping
Yolanda and Carlton are in search of cleansing candles in this scene. Hey, whatever works!
---
2.
Computer Confusion
WTH?!? Kyle shows Joyce a photo of her computer here as they try to determine where certain messages might have come from.
---
5.
Stunned Carlton
Carlton is not happy with her seating arrangement. This is a shocked scene from The Real Housewives of Beverly Hills.
---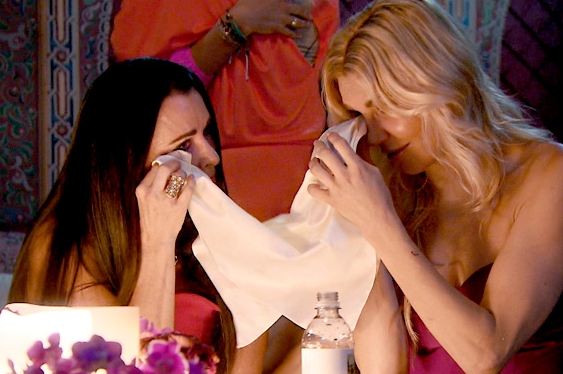 6.
Kyle and Brandi in Tears
The tears flow here for Kyle and Brandi. Who says these people don't have feelings?!?
---
8.
Cake for Gigi
Gigi is off to New York. She gets a cake here at her party, with her very own face adorned on it.
---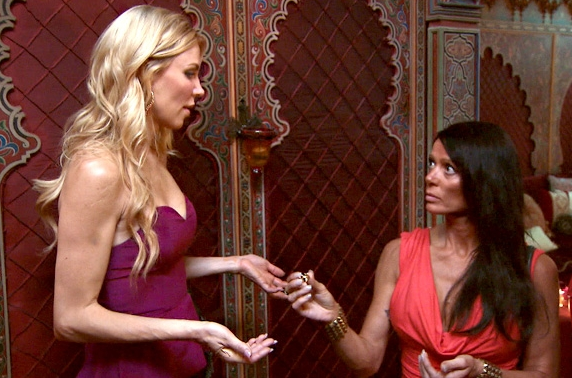 9.
Take This Back!
Brandi defended Kyle on The Real Housewives of Beverly Hills. But Carlton is still was not ready to accept the gift.
---
Kyle offering the ring to Carlton seemed kind of ridiculous and completely awkward. Either hand it to her as a peace offering or don't bother. Anything else is just weird. Minus 15.

Lisa's comment about there being "so many heads to chop off," was kind of telling. Unfortunately, little does she realize that everyone seems to be out for her head.

Lisa couldn't seem to help herself when she dove into the middle of the ring fiasco. First by pointing out it's a different color from the necklace, then by trying to force Carlton to confront Kyle about it. Minus 23.

Plus 42 to Yolanda for putting an end to that right away. This party was for Gigi, not another Housewives battle. Settle your scores on your own time ladies. 

Carlton not accepting the ring was kind of childish but also predictable. How do you accept a gift via second party from someone you don't like?

Suddenly Brandi seems to see everything that Lisa says or does in a negative light. Lisa likes to cause her bit of trouble but it wasn't all that long ago that Lisa was Brandi's only friend. Minus 25. How soon they forget.

Now everyone's preparing for Puerto Rico where we're sure there will be plenty of tears, angry words, and drama while soaking up the sun. 

Episode total = +17!  Season total = -265!

Now it's your turn, TV Fanatics. Why do you think everyone is turning on Lisa?

C. Orlando is a TV Fanatic Staff Writer. Follow her on Twitter.

Tags: The Real Housewives of Beverly Hills, Reviews
From Around the Web