David Letterman has reportedly announced his retirement.
We're awaiting official word from The Late Show host himself and/or representatives for CBS, but Letterman just told the audience at his taping for tonight's episode and the news was then Tweeted by REM bassist Mike Mills.
"Dave just announced his retirement #2015 #muchlovedave," Mills wrote online.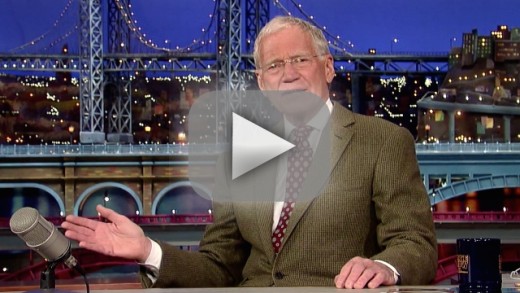 Letterman will recite his final Top 10 List in 2015, ending a 20-year reign on CBS, which was preceded by 11 seasons as host of NBC's Late Night.

Earlier this year, Jay Leno stepped down as host of The Tonight Show, with Jimmy Fallon earning huge ratings in the weeks since.

Expect speculation over Letterman's replacement to begin immediately, but let's all stop first for a moment and bid an early, fond farewell to one of the funniest people alive.

Tweeted Jimmy Kimmel upon hearing the news: "David @Letterman is the best there is and ever was."

Amen.

UPDATE: Here is an excerpt from Letterman's monologue...

"I just want to reiterate my thanks for the support from the network, all of the people who have worked here, all of the people in the theater, all the people on the staff, everybody at home, thank you very much.

"What this means now, is that Paul and I can be married. We don't have the timetable for this precisely down – I think it will be at least a year or so, but sometime in the not too distant future, 2015 for the love of God, in fact, Paul and I will be wrapping things up."

Matt Richenthal is the Editor in Chief of TV Fanatic. Follow him on Twitter and on Google+.

Tags: TV News