There's nothing quite like the holidays to bring out the best and worst in families.
Star-Crossed Season 1 Episode 8 proved that that fact bodes for aliens and humans alike.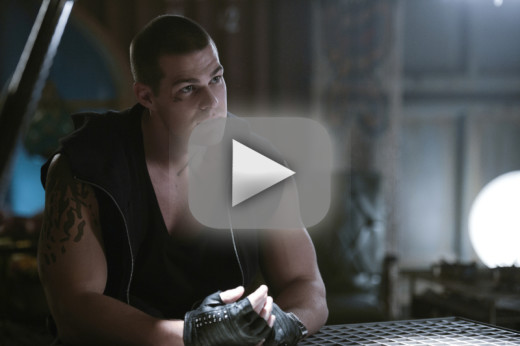 The Atrian community geared up for the celebration of a major holiday: Dinasyku. In an effort to push forward with the integration program, the Atrian 7 were permitted to invite some guests to this year's feast.
Naturally, with Roman and Emery getting hot and heavy in the utilities closet at school, Roman invited Emery along.
I always envisioned my secret romantic liaisons surrounded by buckets of bleach.

Emery
Girl, you might complain about that bleach smell, but you and Roman make hooking up in the janitor's closet look good. 
As you might expect, Emery was nervous that going to the Sector could be a bad idea...since the Trags want to kill her and all. There was also the little thing that plagues every new relationship: meeting the parents. 
At first I was shocked that Maia was so hateful towards the girls, especially considering that her husband was one of the people who pushed for acceptance and integration. Then I realized that it was really all about Emery and her father having been the one who shot Knox.
Perhaps if it was just Julia, she wouldn't have been so hostile?
But then Sophia blurted something out that I hadn't expected to hear. Sophia realized that Emery was the girl who saved Roman on Arrival Day. When Maia asked if that was true, Emery took the classy route out and excused herself saying it was important Maia spend that day with her family.
I still don't know why it's such a secret that Emery was the one who saved Roman. Theories?
Elsewhere in the Sector, Drake was prepping for his last day before going undercover as a human to replace Zoe. Roman, being the great friend he is, spoke to Vega about a bargain. She agreed to release Drake if Roman got a prisoner released. 
You have an obsession with helping people, you know that?

Emery [to Roman]
Roman used his pull with Gloria, who he is on shaky terms with right now due to finding out about her affair with his father. By the way as I type this, I realize that sci fi and aliens or not, this show is still a total CW-style soap opera (which I love.) Sometimes it takes me a minute to make sure I have all the storylines and drama correct!

Lo and behold, the prisoner released was none other than Drake's mother. She left a flight simulator device on Knox's door thinking he'd see it and know the truth about Castor murdering someone. Instead, Emery accidentally saw it and, once again, she was placed in the middle of drama with Roman and his family.

So, just how bad are things about the get when Roman confronts Castor? Also, is Julia going to get sucked into helping Eva? It sounds like Eva is not above blackmail. She's also not above killing some Atrians apparently!

Last, but definitely not least, we have Grayson. After what his father told him and watching the security footage, he realized he was drugged and kidnapped to some extent by the Atrians. Plus, he knows Emery just dumped him for an Atrian.

So is he about to go full blown Red Hawk or what?

Leigh Raines is a TV Fanatic Staff Writer. Follow her on Twitter.

Tags: Star-Crossed, Reviews
Want more Star-Crossed?
Sign up for our daily newsletter and receive the latest tv news delivered to your inbox for free!
More From TV Fanatic
Jane and Maura get drawn into the world of rare books and coded confessions when a book seller hiding a secret is murdered on Rizzoli & Isles.
On Perception, Daniel and Kate investigate an art heist. Also, Daniel must make a decision about his love life.
Things on Pretty Little Liars looked pretty darn bleak this week as Hanna's friends started to get sick of her but Zack couldn't get enough. Read the review for more insight into the latest installment!
Evan, Paige and Bob confront Russel about his rug theft, while Divya and Jeremiah treat a woman desiring to be a mom. But were those all the surprises the Hamptons had to offer? Read our review of "I Didn't See That Coming" now!
---