Heller made his last stand in 24: Live Another Day Season 1 Episode 8 - and what a way to go. Truly, no one is safe on 24.
Last week I wondered if this was actually some elaborate scheme to trap Margot. Unfortunately it was not, but Heller had certainly thought out his plan.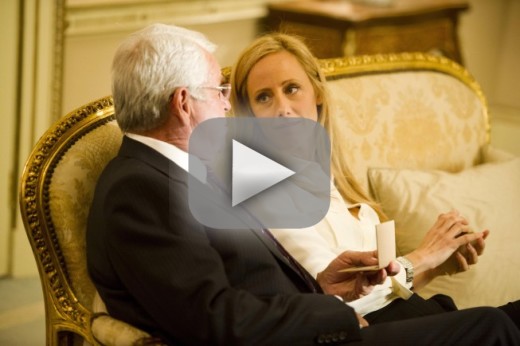 First, he would resign his presidency, that way this could be viewed as a personal decision instead of the United States negotiating with terrorists. It was a fine line but  certainly a noble gesture on Heller's part. Still, I kept waiting for Jack to swoop in and save the day. 
Unfortunately that was not to happen. As much as I hated losing President Heller, especially since I'm a long time fan of actor William Devane, if he had to go, this was the way to do it. Who would have ever guessed he'd be blown away by a drone missile in the middle of Wembley Stadium. Hope there wasn't a soccer game scheduled anytime soon because that's going to leave one hell of a divot. 
I loved Heller somehow managed to keep his sense of humor despite his tragic circumstances...
Apart from this being the worst day of my life, I'm doing great.

President Heller
His final scene with Audrey as they looked at the photo of their family at the beach during happier times was his way of saying goodbye even though Audrey didn't know it at the time. 
And not being able to say goodbye or attempt to change her father's mind is something for which she may never be able to forgive Mark. How long will it be before she finds out that Jack was involved as well and that he actually delivered her father to his death?
Now we get to find out if Margot will be true to her word and destroy the drones. She sounded as though she would in this 24: Live Another Day quote…
Let the world see that justice was done and that even a so-called terrorist can keep her word.

Margot
But her son Ian had his reservations. They've put a lot of effort into planning these attacks and killing a president may not be enough bloodshed for him. Of course given how Margot reacted to Simone's betrayal, Ian may be more willing to tow the line no matter what he may feel.

We saw very little of Kate or Chloe during this hour. I can only imagine how betrayed Chloe will feel when she finally learns of Adrian's betrayal. When the time comes, I hope she's the one who takes him down.

Finally, Jordan figured out that Navarro was the one trying to kill him. Now if he can just figure out how to keep himself alive to blow the whistle on him. And shouldn't all CIA agents have basic weapons training, even ones who are usually in the office? Knowing something as simple as if the safety was on that gun would have been very helpful and saved Jordan from a stab wound. 

In the end, this may have been one of the best episodes of the season so far. I know I'll certainly never forget President Heller's last stand.

Tell us TV Fanatics, what did you think of President Heller's last stand?

C. Orlando is a TV Fanatic Staff Writer. Follow her on Twitter.

Tags: 24: Live Another Day, Reviews