Nick Deering has been strangely mysterious since day one on Devious Maids Season 2. 
To try and get to the bottom of this character, I spoke to star Mark Deklin earlier this week and told him how fans have speculated that Nick may have killed Adrian and Evelyn Powell's only son, Barrett. 
His response? A laugh and a no comment.
Did you all figure it out? I'm not sure. He didn't actually denounce the idea, simply saying everyone is entitled to their own theories. His laughter convinced me that it's still very much a plausible hypothesis.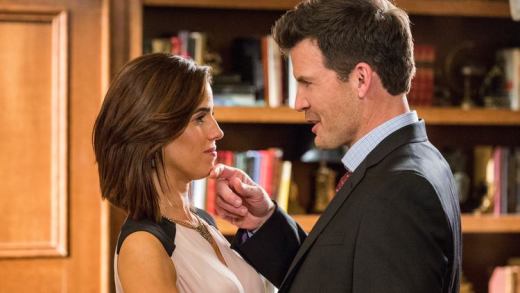 So, what's it like to for Deklin to play a character with so many secrets?

"Overall, it's delightful. As an actor, it's what you want. It's really fun to play someone who keeps you guessing and has layer after layer," he said. 

On this week's episode, Nick will drop his guard and let something slip while in a pill-induced haze. According to Deklin, the whole secret isn't revealed. However, he does say something that will make us go, "WHAT?!" 

Whatever Nick reveals will also make Marisol ask, "What did you just say?" We will be left knowing there will be yet another secret. 

"Through falling in love with Marisol, Nick feels like life is giving him a second chance to be a human being again. He really wants that badly," Deklin said. "Nick knows he can't continue to lie to her. At some point, he knows he's going to have to come clean."

He believes that Nick is constantly trying to feel Marisol out. First, he was trying to bury his secret. Now, he's probing her to see if it's possible he'll get forgiveness. He's terrified he'll lose his one shot at redemption - which is Marisol. 

If it weren't for the state he was in, would Nick have been honest with Marisol?

"If she gave him an opening, and said she'll forgive and love him no matter what," he said. "Nick wants to be completely honest with her, but he also wants to know there's a chance they can still be together if she finds out what he did." 

After Nick's shocking secret is finally revealed, can and should Marisol still love him?

"I think that entirely rests with Marisol. Is it something she can get past?" he questioned. 

Deklin went on to say it would depend on if Marisol could say, 'I understand. I don't certainly approve of what you did, but I can see that you didn't set out to do something evil and you are filled with remorse about it.'

Speaking for himself as an actor and person, it would be hard for him to forgive. 

"I'm not saying it's impossible, but it would be challenging," he said.

Four installments remain over all this season. What else can we expect for Nick?

"Once he slips up in the drug-induced haze, things just start to rapidly unravel for Nick. It's going to be a lot of him trying to scramble to survive and trying to strategize," Deklin said.

Upon realizing that his big secret will eventually be revealed, Nick will try to figure out how to manage damage control. Deklin mentioned that Nick would reach a defining moment of how to handle the inevitable.

Don't forget to tune into Devious Maids tomorrow night on Lifetime and return to TV Fanatic shortly after for our official review!

Tags: Devious Maids, Interviews, Exclusives