The things you do for family...
I didn't think I could dislike Carlos any more than I already did, but I was wrong.
He went from killing a cop and beating up his therapist to killing kids in an attempt to win over his father on Gang Related Season 1 Episode 5. He couldn't have been more misguided in his actions or belief about what would happen.
His father may want to get the family clean, but there's no indication that Carlos agrees with that path.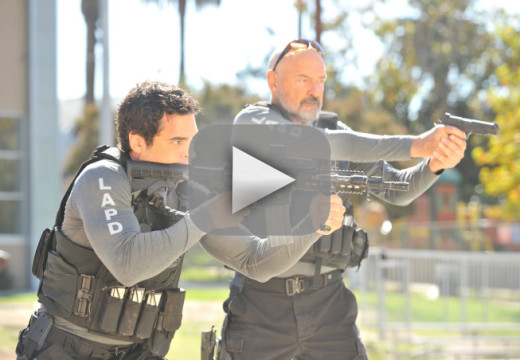 Carlos was responsible for killing people when he had the Korean's "Butter" tainted. He succeeded in creating a market for him to enter the drug market, but there was no way his father would have agreed. His vision was shortsighted.

His dad wouldn't have agreed to expansion under those term and even worse, it exposed the entire family to the Gang Task Force.

Javier's reaction was almost as disappointing. He couldn't kill his son, so instead he had Jose killed in front of Carlos. Why was that necessary? What did it prove? It further demonstrated that Javier's not a good man and despite his claims of wanting to go clean, he's really not ready. His decision to cut Carlos off from the business would have been punish enough.

While I'd love to never see Carlos again, I don't think he's going to disappear quietly. Instead, he'll likely use his father's love for Ryan and his hatred of the "Orphan" to get payback. If Carlos makes it to the end of the season alive or out of prison, I'll be shocked.

Javier's other son, Danny, is getting himself in trouble too. He wants to prove he's a smart banker and free from his father's business. This desire pushed him to make poor decisions which risks all he's done for the community with his bank. It's going to cost him big and when he loses the money, he'll be forced to let the bank go or go to his father for help.

The latter will put him right on the GTF's radar, especially with the agent working on the inside. 

As much as I want Carlos to fail, I want to see Danny succeed. The younger brother was given opportunities Carlos wasn't and it would be a shame to see that go to waste.  Each week, I dislike Javier more, but one thing he did do right was push his son to get a good education and a legal profession. Despite that, Danny will always be "Javier Acosta's son" and he has to come to terms with that.

Ryan's like the middle brother with a foot in both worlds. He has limits to what he will do that crosses the line. He threatened the dead kid's dad to protect his partner with a questionable method, but his intentions were entirely good. He protected Carlos from being picked up by the task force again by putting Javier in more danger.

Carlos was right about one thing. He asked Ryan the right questions, "Are you one of us? Or are you turning into one of them?" Those sum up the series. By the end, where will Ryan land? Ideally, Javier will go clean and Ryan can continue to do the job he loves. Both of those futures are very much in the air. 

Javier gave up his dream, when he sold the sacred land where his parents died. That was one more step towards him remaining a crime lord or being taken out for not making his loan payments. Meanwhile, every time Ryan does something for Javier or crosses the line, his own future is put into doubt.

There's not much good going on for any of the characters.

Did Javier go to far with his punishment of Carlos?

Carla Day is a staff writer for TV Fanatic. Follow her on Twitter and on Google+.

Tags: Gang Related, Reviews
Want more Gang Related?
Sign up for our daily newsletter and receive the latest tv news delivered to your inbox for free!
More From TV Fanatic
Join us for the One Tree Hill Rewatch of Season 1 Episode 4! Ready to relive the fun drama?
Power struggles ensue all around Chester's Mill on Under the Dome. Lives will be put on the line.
Scott decides to get tough on Teen Wolf after rescuing his Beta by declaring he won't sit back and watch more deaths. Find out what else went down in the review!
Heather and Tamra consider making peace with Shannon on The Real Housewives of Orange County. See what went down in our TV Fanatic review!
---