Rizzoli & Isles Set Scoop: Sasha Alexander on Changes, New Romance & Downton Abbey
by Jim Halterman at . Updated at . Comments
It's not every day that a long-running series has to deal with the death of a cast member, as well as the character they played.
But that's what we'll see on Rizzoli & Isles Season 5 Episode 2.
The unexpected death of co-star Lee Thompson Young last August will be dealt with on the installment, as the crime drama pays tribute to both Young and his character, Barry Frost, in the most respectful way possible.
And while everyone in the cast handles the task at hand beautifully, star Angie Harmon does Emmy-worthy work when Jane tries to deal with Frost's death by... well... not really dealing with it.
We talked to Harmon and new showrunner Jan Nash last week on set and now we fiund out from Sasha Alexander how the season will get back to some of the lighter fun we're used to.
The actress also teased Maura's new romance, as well as how the show brings a little Downton Abbey to one particular episode...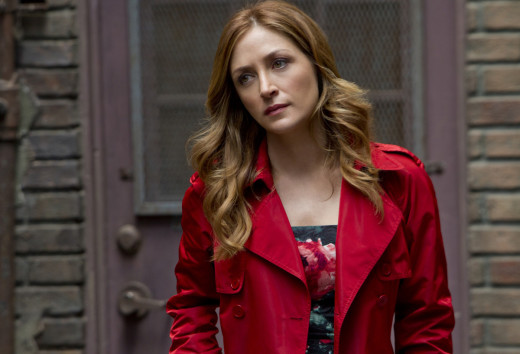 Ch-Ch-Changes: While a lot of the personal stories with Maura over the years have dealt with her gangster father, adopted mother and half-sister, we won't see so much of that in the new season.

"This season's interesting in the sense that we're not really diving into any of Maura's family so Maura's taking a little bit of backseat in the first part of the season…there's changes in the police department and in the first couple of episodes, we're dealing with the loss of Barry Frost and what that does to the team and then kind of diving into some really great crimes in all that.

New Man For Maura: Alexander was tight-lipped about the new love interest for her character but did say that it's not Eric Winter, who guested in the past as a potential suitor.

"All I can tell you is he's a total smarty-pants, but in the right way and he's this super, wonderful actor named Enver Gjokaj, the actress says. "He's amazing [and] he's just such a wonderful actor, but he's just a cutie pie so that's a really fun relationship that is happening now so I don't really know how it's going to end or not end or where it's going."

One bit of scoop she did reveal? This guy won't follow the trajectory of some of her past love interested: "It's just nice to see that there's somebody possibly not a killer."

Darkness To Light: While tonight's episode deals with the death of Barry Frost and has a serious, sad tone, don't expect the whole season to be that way: "When [Maura's] first handling the death of Barry Frost and how she grieves over it, it's really touching because in a natural, Maura-way, she tries to kind of put it all in a box and it doesn't happen like that."

The actress said the same thing happens with this new relationship, which will help in lighting things up in the subsequent episodes.: "[Maura] sees someone she likes, but the way she goes about it is really kind of off-beat and maybe socially very awkward so I had a lot of fun doing that and exploring how she goes about it."

Baby, Baby: With Jane pregnant, how will Maura, react? "I think that she's very excited about everything from all of the gadgets that you get and all of the information, the reading you can do and gather during pregnancy about statistics and stuff and what you can do for the baby so I definitely think she's much more into that than Jane."

Who Will Jane Lean On? Jane has already decided to hide her pregnancy (for nowO from her meddlesome mother, Angela, but what about the baby's father?

"We don't know Casey's situation in terms of being with her or not," said Alexander. "It's hard because Maura's the only other person that [Jane] can kind of really rely on. Her mom's rather overbearing. Angela can just kind of like take it all over and she doesn't want that."

New Bosses: There are changes onscreen with the loss of Frost, but there were some change behind the scenes of the series, too. Jan Nash (Unforgettable, Without A Trace) has taken over the showrunning duties for the fifth season and Alexander praised how she's handled the show and brought more than procedural know-how:

"She has a wicked sense of humor She used to write on [the sitcom] Ellen years ago and she's just snappy funny and so the scripts are really smart and the crimes are deeper."

Mastering medical speak: You'd think after all this time Alexander would have the difficult medical jargon down. Not exactly.

"It's just hard," she said. "I look at some of the scenes. I'm like 'what?' At first, it's more like a Chinese to me. It's Mandarin and then I have to sit down and slowly break it down and really understand it. That's the hard part is I have to understand every single thing and then add action to it." 

The actress lit up even more when she revealed some of the gross things we'll see this year: "I know it's going to sound like you don't know where it came from but Maura made a maggot milkshake. She had to test maggots to find out a certain time and it's really gross and hilarious at the same time."

Rizzoli/Downton crossover? Not exactly, but Alexander said there's a fun episode coming up that brings out a fun side of Jane: "They go to investigate a crime that's at this very big mansion and Jane thinks it funny and she does all these Downton Abbey impersonations. And Maura's like 'I don't want to take you there because I know what you're going to do and you can't. You have to promise you won't do it' and she does it the entire time and it's just hilarious."

Also, watch for Jane to dress up as a sexy librarian…though Maura thinks she looks more like a flight attendant.

Chemistry & Magic: While it's probably the number-one reason why people watch the crime drama, Alexander is very aware of the pitch-perfect, natural chemistry she has with co-star Harmon.  

"I think that's just the magic. When chemistry happens in that way, you just can't define it. You can't put a thing on it. You can't say 'oh it's because maybe she's more masculine and she's not.' I've read scenes and they read one way and then we start to do them and they're something else.

Home, Sweet Home at Maura's: "They're all at Maura's house!" Alexander said of the fact that, in the opening of the season at least, Jane has been sleeping over and Angela is already a regular presence, too.

"I literally said 'is your whole family going live here now? You should just come over, too.' She gets sick and has something and she's staying over. It's hysterical. I said we should just build a wing…but it's fun. It's really fun to do and so wonderful when you do have chemistry in that way because the music gets different."

Rizzoli & Isles Season 5 airs Tuesdays at 9/8c on TNT. 

Jim Halterman is the West Coast Editor of TV Fanatic and the owner of JimHalterman.com. Follow him on Twitter.

Tags: Rizzoli & Isles, Set Visits, Interviews