Jessica came to town to shutdown Mike's operation, but the unexpected visit caused him to accelerate the case and make some pretty rash moves by both himself and his teammates on Graceland Season 2 Episode 5.
In order to keep the human trafficking case on track, Mike has to play with Jessica's emotions... yet he backs down at the last minute and forces Paige to lose her team. M
ike encourages Johnny to reciprocate Carlito's feelings, placing him in a compromising position, while Jakes ends up violating the restraining order by accident.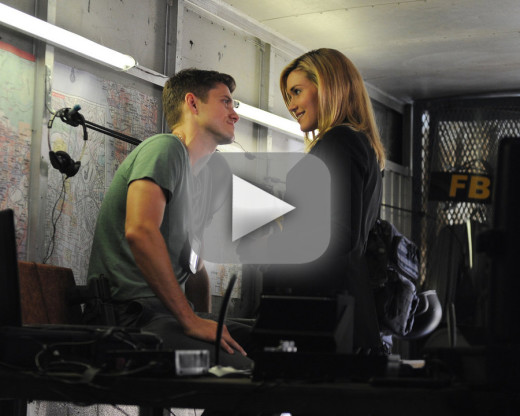 I always thought it was only a matter of time before Jessica dropped in on Graceland. In fact, I actually anticipating some of the drama associated with the Mike/Paige and Mike/Jessica relationship. What I didn't see was all the instability her appearance at the house would cause outside that realm.

Let's be honest, her appearance caused Mike to get even sloppier than he was already operating before Jessica arrived. Johnny almost got his cover blown with Carlito, and when he saw an opportunity for Johnny to get closer, he encouraged him to push the envelope and pretend he was gay, which got a gun shoved in his face.

Clearly, Jessica's arrival placed Paige in the very dangerous situation she now finds herself in, taking the place of a young girl being trafficked into the U.S. Had she had the properly outfitted team she planned on, she might have had some backup.

Instead, Jakes was getting arrested - for reasons we'll discuss in just a second - leaving her out in the cold and without help. I guess we have to blame Paige a little bit for going through with it, but it still should not have happened.

Even Mike tried to put himself in a compromising position when he tried to sleep with Jessica to get what Paige needed, which clearly backfired. Who we should really be blaming for the situation: Paige for suggesting the manipulation or Jessica for failing to grant the request?

And for all the drama going on with the rest of his team, it almost appeared as if Jakes was going to get some unexpected peace and little bit of happiness when his son showed up at his house to spend time with him. Daniel's a smart one, but clearly he wasn't smart enough to know what the consequences were for tracking down his old man.

And, as is to be expected in the world of television drama, the discovery of the violation occurred at exactly the wrong time. I have to say, it was pretty devastating to watch him get tasered in the final moments of the installment.

What I found most interesting is that Briggs pretty much flew under the radar this episode, but given all that went down, he and Charlie got a much deserved break from the drama. Did you notice there was still no mention of the infamous tape?

So, which case are you wanting most to see resolved, Agents?

C. Charles is a TV Fanatic Staff Writer. Follow her on Twitter.

Tags: Graceland, Reviews