Kurt Sutter and company sat down for a panel discussion at the Television Critics Association summer press tour in Beverly Hills yesterday - and revved up fans' expectations for Sons of Anarchy Season 7.
Following the horrific murder of wife Tara (at the carving fork-holding hands of his mother), where will we find Jax when new episodes kick off on September 9?
In prison for violating his parole, 10 days after the gruesome incident. And very, very, very, very angry.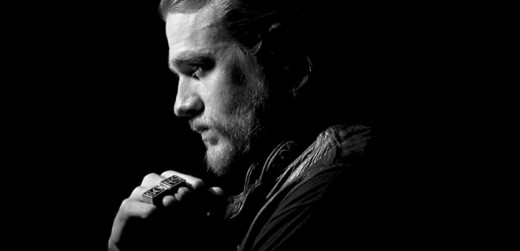 "He's obviously very sad and vulnerable and kind of broken, but there's a huge amount of vengeance and anger in his heart," Charlie Hunnam told reporter.

"The way all of that is processing, at least in the very beginning, is [starting] to have a numbing effect. He knows what he wants to do, and that's where all of his energy is going to go, but he can't get away from the fact that the love of his life has been taken from him."

Jax will also be closing the circle around him, trusting only SAMCRO and immediate family members.

This, ironically, includes Gemma.

"She's somewhat duplicitous," Katey Sagal said of her character. "It's not even somewhat. What's coming out of her mouth and what's going on in her head are two different things. She's made adjustments to the situation based on her basic instinct, which is to survive and keep her family together. She is still all about that."

Sutter, meanwhile, admitted that he's known Marilyn Manson for years and that the rocker was "basically wearing me down" for a role until he came up with the white supremacist inmate who will interact with Jax behind bars.

Expect many deaths to be on the horizon, but also a little bit of fun. But one biker at least. Who is getting in on a "very exciting romance," according to Hunnam?

"Tig's getting some this year!" the star promised.

Sons of Anarchy Season 7 Episode 1 will be titled "Black Widower" and airs on September 9 at 10/9c.

Matt Richenthal is the Editor in Chief of TV Fanatic. Follow him on Twitter and on Google+.

Tags: Sons of Anarchy, Spoilers