Don't panic, Grey's Anatomy Fanatics.
Before we go any further, allow us to answer the question in the headline with a flat-out NO.
Or, better yet, allow Shonda Rhimes to answer it.
"I don't think that it's a marriage-ending argument," Rhimes tells EW of the fight between Meredith and Derek that concluded Grey's Anatomy Season 10.
"I actually would like to watch a couple have a hard time in their marriage, and have it not be that that means their marriage is over."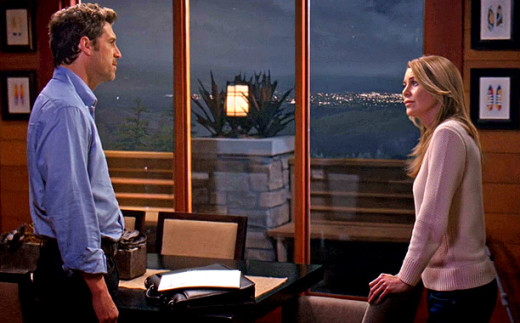 Grey's Anatomy Season 11 has been dubbed "The Year of Meredith" by Rhimes, as the drama's title character will no longer take a backseat to her husband's career.

"There's something really great about watching a couple have a mature marriage where stuff goes wrong, things are hard, and people try to push through it and figure it out," Rhimes adds.

The super producer also tells TV Line that Jo and Alex will have some problems... because of Meredith?

"Alex feels responsible for her," Rhimes says, explaining why Meredith and Alex will be spending a lot of time together this fall. "He feels like Cristina didn't just leave him a seat on the board and the shares, she left him Meredith as well."

Alex will find himself "in the uncomfortable position of being the recipient of a lot of the stuff that Cristina would have been left listening to," Rhimes teases, though she emphasizes that the two will be strictly platonic.

Grey's Anatomy Season 11 premieres on Thursday, September 25 at 8/7.

Kate Walsh left Grey's Anatomy under very good terms: to be spunoff as Addison on Private Practice! You can now catch her on FX's Fargo.

Matt Richenthal is the Editor in Chief of TV Fanatic. Follow him on Twitter and on Google+.

Tags: Grey's Anatomy, Spoilers